Photo Gallery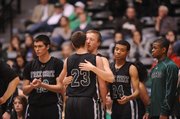 Free State boys vs. Blue Valley Northwest at state
Box score
Blue Valley Northwest 56, Free State 37
Free State (37)
Cole Moreano 2-8 0-0 4, Keith Loneker 4-8 0-0 8, Reshawn Caro 1-1 0-0 2, Khadre Lane 6-14 2-2 15, Logan Bannister 0-0 0-0 0, Blake Winslow 1-7 2-2 4, Weston Hack 0-0 0-0 0, Wilson Hack 0-0 0-0 0, Cody Scott 2-6 0-0 4, Kyle McFarland 0-0 0-0 0, Innocent Anavberokhai 0-0 0-0 0, Chris Heller 0-1 0-0 0. Totals 16-45 4-4 37.
Blue Valley Northwest (56)
Kyle Harrison 2-7 0-0 5, Clayton Custer 4-8 11-15 20, Ben Richardson 6-11 3-4 15, Vince Fritz 3-8 3-5 11, David Salach 0-1 1-3 1, Ian Alter 0-0 0-0 0, Mason Schoen 0-1 0-0 0, Andrew Martin 1-1 0-0 0, Trent Lunsford 0-0 0-0 0, Xin Yi Wang 1-1 0-0 2. Totals 17-38 18-27 56.
Free State 8 9 12 8 — 37
BV NW 5 17 18 16 — 56
Three-point goals: Free State 1-13 (Lane); Blue Valley Northwest 4-12 (Fritz 2, Harrison, Custer). Fouled out: Free State, Scott, Winslow. Turnovers: Free State 14, Blue Valley Northwest 4.
Wichita — Not one opponent this season has brainstormed a way to overcome the speedy and crafty guard attack of Blue Valley Northwest's boys basketball team.
The Huskies bludgeon with deadly defensive traps, own a revolving door of guards who can get to the rim off the dribble and have the experience of playing in a program that has finished as Class 6A's state runner-up each of the past three years.
Leading his unheralded, No. 8 seed Free State team into Koch Arena for a first-round meeting with the state tournament's untouchables, the No. 1 Huskies, coach Chuck Law thought it wouldn't take perfection for FSHS to pull off the upset of the postseason. But something pretty close to that sure would help.
His Firebirds gave him as near to a flawless first half as a coach could hope for Wednesday afternoon against BVNW, but the Huskies got back to their lethal brand of hoops when it came time to win and ended Free State's season with a 56-37 victory.
"We couldn't have asked for much more at halftime," Law said of a 22-17 deficit for Free State, which held 6A's top-ranked team to five first-quarter points and 8-for-20 shooting through two quarters.
The discussion in the Free State locker room at the break centered on keeping within five or so points — at least single digits — of BVNW going into the fourth quarter, so the Firebirds (11-12) could find out if the pressure of getting knocked off by an underdog would get in the Huskies' heads.
The savvy guards of BVNW (23-0) never gave their challengers that opportunity. First, Vince Fritz cut to the lane for a layup. Then Kyle Harrison turned an FSHS turnover into a three-pointer in transition. Next, Fritz drained a three. By the time Clayton Custer recovered a shot that Free State senior Cody Scott had just blocked and put it back in the basket, the Huskies owned a 32-17 lead.
Junior FSHS forward Khadre Lane, who scored a team-high 15 points, said when Free State committed five of its 14 turnovers in the third quarter, it gave the juggernaut life.
"That's exactly what they do. They would turn us over, and when they get a shot, they're not gonna miss it," Lane said. "They'd get an open shot or a three. The whole game, our philosophy was to limit the turnovers, and once we had that little stretch in the third quarter, it got out of hand."
Northwest stretched its lead to 40-23 when Custer (game-high 20 points) hit two free throws at the 2:06 mark of the third, but Law was pleased to see FSHS respond with a Lane jumper, Blake Winslow layup and Scott tip-in to close the quarter. Free State did enough to enter the fourth down 40-29.
"We were kind of there to make it interesting, but we took a couple quick shots (to open the fourth) and missed some stuff around the basket," Law said. "They're long, they're athletic, and stuff we had finished recently, we didn't finish today. And we didn't make enough shots to win the game."
The Firebirds found success on just four of their 12 field-goal attempts in the final eight minutes and finished the game 16-for-45 from the floor (35.6 percent).
The Huskies didn't exactly shoot lights out in the fourth, making three of their six attempts, but they did more than enough to get by at the free-throw line, converting 10 of their 13 tries. BVNW won and advanced to face Derby in a Friday semifinal behind Custer's making 11 of his 15 free throws, many of which he earned by driving past FSHS defenders. Ben Richardson had similar success and scored 15 points, while Fritz chipped in 11.
"They're unbelievable," Law said. "When they spread you out like that with all their ball-handlers, they're virtually impossible to beat. You can't play from behind."
Junior Free State guard Keith Loneker, who scored eight points on 4-for-8 shooting, said the Firebirds knew the Huskies would play at a higher level in the second half.
"We came out just a little bit lackadaisical," the junior guard said. "That little stuff killed us."
Junior forward Cole Moreano (game-high 13 rebounds) scored a second-chance bucket for FSHS less than two minutes into the fourth quarter to cut the BVNW lead to 11 before the Huskies pulled away.
Still, Law said he couldn't have been more proud of the Firebirds.
"That was unbelievable by our guys to start the game," Law said. "We just didn't do enough in terms of getting into offense."
Copyright 2018 The Lawrence Journal-World. All rights reserved. This material may not be published, broadcast, rewritten or redistributed. We strive to uphold our values for every story published.