Photo Gallery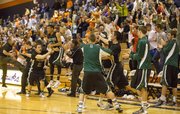 Free State boys vs. Olathe East at sub-state championship
Olathe — Tiring as the life of a high school basketball player can be, Free State junior Khadre Lane discovered Friday after-school naps aren't always the greatest idea.
Hoping to reap the benefits of a power nap later, during the Firebirds' Class 6A sub-state championship game at Olathe East, Lane snoozed at home a little too long, arrived 20 minutes after scheduled bus departure time and lost his spot in the starting lineup.
Coming off the bench, the 6-foot-4 junior forward missed his first six shots and went scoreless the first three quarters.
Somehow, Lane woke up just in time to contribute nine fourth-quarter points, secure a critical offensive rebound with seconds remaining and hit two must-have free throws that sent No. 7 seed Free State to the state tournament with a 45-44 upset victory.
"I got lucky," Lane said of getting to FSHS before the bus left without him. "Got lucky I made it."
Good fortune (or patient coaches and teammates), however, had nothing to do with Lane's critical, game-winning free throws with 2.5 seconds on the clock, according to junior forward Cole Moreano, who led Free State (11-11) with 12 points.
"The kid's clutch. That's it," Moreano said. "He had not played up to his standards as he saw them the last few games, and he came in in the fourth quarter and was clutch. Big time. He's a big-time player."
No. 3 seed O-East (13-9, ranked No. 10 in Class 6A) had a desperation, back-court heave from senior guard Kyle Smith hit the rim and fall short as time expired, sending Free State's players and coaches into a frenzy after they earned the program's first state berth in six seasons.
"I can't even wrap my head around it," senior forward Cody Scott said. "I still can't. I'm just happy to keep on playing."
The Hawks held a slim, 31-29 advantage entering the fourth quarter before Lane scored his first points of the night with two free throws at the 7:06 mark. When junior Hawks guard Caelan Neal (game-high 15 points) hit a three-pointer, Lane responded with a post-up and his first field goal with 5:32 to play.
In the following minutes, Moreano drained a game-tying three and hit another crucial jumper off a Keith Loneker skip pass. A steal, layup and three-point play by Lane preceded a Blake Winslow pass to Scott for another bucket in the paint.
Down 44-43, Free State elected to foul sophomore O-East guard Tez Scroggins with 51 seconds to go. He missed the front end of the one-and-one, and Winslow forced a tie-up on the rebound, giving Free State possession and the ability to hold for the final shot.
FSHS coach Chuck Law, whose team is returning to state for the first time since 2007, said Winslow's jump ball was one of many critical plays for the Firebirds. A few more came from Scott, who scored 11 points and gave FSHS momentum heading into halftime. The Hawks led by five late in the second quarter when Smith decided to drive baseline. Scott met him at the rim and blocked his shot before securing the ball. With four seconds on the clock, Scott hit his first of three three-pointers, and the Firebirds trailed 23-21 at the break.
"That's a five-point swing or six-point swing potentially in a game that's gonna come down to the last possession," Law said. "That stuff matters. Everybody focuses so much on the last play of the game, but there are so many things during the course of the game that also play an important role, and, boy, what a great win for our kids. I'm so proud of them."
Brackets haven't been officially announced, but Free State, in its fifth trip to state, should face unbeaten Blue Valley Northwest in the first round on Wednesday in Wichita.
Free State 45, Olathe East 44
FREE STATE (45)
Cole Moreano 5-12 0-0 12, Keith Loneker 1-2 2-2 4, Cody Scott 4-6 0-0 11, Reshawn Caro 0-2 0-0 0, Logan Bannister 2-2 0-0 4, Khadre Lane 2-8 5-5 9, Blake Winslow 1-4 3-4 5, Weston Hack 0-1 0-0 0. Totals 15-37 10-11 45.
OLATHE EAST (44)
Caelan Neal 6-11 1-2 15, Tez Scroggins 1-6 0-3 2, Bret Cook 3-6 0-0 9, Ezra Talbert 3-7 0-0 7, Scott Brown 0-0 0-0 0, Brady Kaemmer 0-1 0-0 0, Kyle Smith 3-6 0-0 9, Javion Blake 1-2 0-0 2, Josiah Talbert 0-0 0-0 0. Totals 17-39 1-5 44.
Free State 11 10 8 16 — 45
Olathe East 13 10 8 13 — 44
Three-point goals: Free State 5-17 (Scott 3, Moreano 2); Olathe East 9-16 (Cook 3, Smith 3, Neal 2, E. Talbert). Turnovers: Free State 8, Olathe East 8.
Copyright 2018 The Lawrence Journal-World. All rights reserved. This material may not be published, broadcast, rewritten or redistributed. We strive to uphold our values for every story published.