With five seniors in its seven-player rotation, maybe old age caught up with Free State High's girls basketball team Thursday night.
Photo Gallery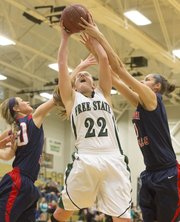 Free State girls vs. Olathe North
Even a few minutes worth of memory lapses, though, couldn't keep the Firebirds from cruising past Olathe North for a 57-44 sub-state victory at FSHS.
The Firebirds, who had just defeated the Eagles 13 days earlier, somehow forgot in the first quarter exactly what it took to beat O-North's 2-3 zone. Senior Chelsea Casady said after FSHS settled too often for long-range jumpers and went just 2-for-11 from the field in the opening eight minutes, coach Bryan Duncan and his assistants jogged the players' memories.
"We've been working on this for a week now," Casady shared of the coaches' message. "What are you guys doing?"
From that point on, the Firebirds (16-5, No. 9 in Class 6A) worked over the Eagles (5-16). An 8-6 FSHS lead after one quarter quickly grew in the second, reaching 24-15 at the half, as Kennedy Kirkpatrick, Abbey Casady and Chelsea set up each other, as well as teammates Scout Wiebe and Summer Frantz, for easy looks at the basket.
"After seeing it two times in two weeks," Duncan said of the O-North zone, "we finally started getting the ball to the high post and short corner and that's what created a lot of different opportunities for us."
Chelsea said the Firebirds didn't want to rely too heavily on three-pointers (they made five of 17 from beyond the arc), and focused their offensive energy on finding ways to penetrate the zone after swinging the ball for as long as it took to forge an opening.
"I think our ball movement really helped that," Chelsea said, "and it frustrated them a lot."
Each quarter, somebody different stepped up for the Firebirds, who advanced to a 7 p.m. Saturday sub-state final at Olathe Northwest (17-4). Chelsea scored seven of her 17 points in the second, Wiebe scored nine of her 13 in the fourth and Kirkpatrick dished four of her new program-record 11 assists in the third.
Recalling Kirkpatrick's sophomore year, when she scored 32 points in a sub-state win, Duncan couldn't help but appreciate her growth and adaptability after she scored nine and swiped five steals against O-North.
"It just shows that she knows what it takes to win," Duncan said. "And she's willing to find teammates to be successful."
The way Free State shared the basketball (20 assists on 24 field goals), Duncan said it felt as if as many as six players had scored in double figures. In Fact, just Chelsea and Wiebe achieved that. Abbey scored five, as did A'Liyah Rogers and Millie Shade, and Frantz knocked down a three in the second quarter.
After the Firebirds dissected the O-North zone the final three quarters, making 22 of their 36 shots in that span, Kirkpatrick said the performance helped their collective confidence as they move one win closer to a trip to the state tournament.
"I think we're just recognizing strengths," Kirkpatrick said, "recognizing match-ups, playing within ourselves, instead of trying to do too much."
Free State girls 57, Olathe North 44
Olathe North (44)
Jessica Sheble 6-9 2-4 14, Jabria Leggett 5-8 4-5 17, Lexa Stelting 2-5 1-2 5, Danielle Wolfe 1-2 0-0 2, Justice Daniel 1-6 1-2 3, Loretta Achoki 1-2 0-0 2, Sabrina Prendes 0-1 0-0 0, Syrra Lindsey 0-0 1-2 1. Totals 16-33 9-15 44.
Free State (57)
Abbey Casady 2-2 0-0 5, A'Liyah Rogers 2-6 0-0 5, Kennedy Kirkpatrick 4-11 0-0 9, Scout Wiebe 6-8 1-4 13, Chelsea Casady 7-11 3-5 17, Millie Shade 2-7 0-0 5, Summer Frantz 1-2 0-0 3. Totals 24-47 4-9 57.
Olathe North 6 9 15 14 — 44
Free State 8 16 16 17 — 57
Three-point goals: Olathe North 3-5 (Leggett 3); Free State 5-17 (A. Casady, Rogers , Kirkpatrick, Shade, Frantz). Fouled out: None. Turnovers: Olathe North 16, Free State 7.
Copyright 2018 The Lawrence Journal-World. All rights reserved. This material may not be published, broadcast, rewritten or redistributed. We strive to uphold our values for every story published.