Kermit Kalb is looking for the perfect storm.
The Wellsville farmer wants enough rain to help his corn and soybeans grow, while not so much that it drenches his wheat that's ready to be harvested.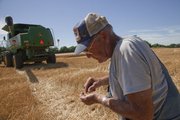 One way or the other, though, he has started cutting wheat, officially getting going for the year on Wednesday.
"It's looking really good," Kalb said of the wheat, which he'd be harvesting in earnest if not for some rain Thursday. "Some of it's not going to stand much longer."
The wheat harvest in Douglas County has begun. Already off to a somewhat late start thanks to the cool spring, the area harvest was slowed down even more because of precipitation late in the week.
"It was getting started (Thursday) before the rain," said Steve Wilson, of Baldwin Feed Co., in Baldwin City.
Area farmers got 10 to 20 percent of their harvest done prior to the storm, Wilson estimates. Test weights at the elevator averaged in the 58- to 62-pound-per-bushel range, while yields so far have been about 50 bushels an acre. While the rain will delay the wheat harvest for a few days, it's good for fall crops, which last year were battered by the extreme drought conditions.
The Overbrook co-op also got in a few thousand bushels last week. Branch manager Mark Easton said wheat in that area is taking a little longer to mature. So far, the wheat there has averaged 13 percent moisture, 63.2 pounds per bushel, and yields of 60-65 bushels per acre.
Wheat prices vary by location and type, but currently are averaging around $6.60 a bushel.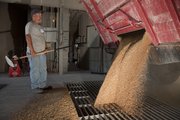 Eudora grower Danny Abel began cutting early last week, getting about a quarter of his wheat crop out of the ground by Friday afternoon. "If it gets some sunshine with no rain, I hope to finish July 4 or probably after," he said. "The wheat is dry, but the straw is still too tough."
So far, his 2013 yield appears promising: some acres are producing as much as 67 bushels, though most are in the 50-to-60 range. Meanwhile, his weights are coming it at more than 60 pounds per bushel, which is better than average.
"I think it'll be a pretty good yield this year the way it looks," he said, attributing that to his crop getting the right amount of moisture. "On the whole, I think all the wheat around this area is going to be pretty darn good."
Copyright 2018 The Lawrence Journal-World. All rights reserved. This material may not be published, broadcast, rewritten or redistributed. We strive to uphold our values for every story published.