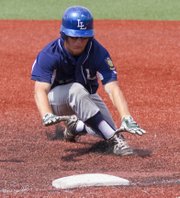 C.J. Stuever had two hits in the opener, and three Raiders — Kieran Severa, Shane Willoughby and Anthony Miele — each had two hits in the nightcap as the Raiders rolled to a pair of youth baseball victories on Sunday at Lawrence High.
The Raiders routed the Midwest Blacksox, 9-0, in a run-rule-shortened Game One, then held off Yard Baseball Club, 7-4, in Game Two to improve to 13-8-1.
Brandon Bell picked up the win in Game One, which was halted after five innings by the run rule.
Briggs Fish earned the win and Ryan Cantrell the save in the second game.
Lawrence will host Oak Park High at 5:30 p.m. Tuesday at LHS.
Raiders 9, Midwest Blacksox 0
Raiders 531 0 — 9
Blacksox 000 0 — 0
W — Brandon Bell.
Raiders highlights — C.J. Stuever 2-for-4, 2b, 2R, 2 SB; Drew Green 1-for-3, RBI, R; Lee McMahon 1-for-3, 3B, 2 RBIs, R; Jacob Seratte 1-for-3, 2 RBIs.
Raiders 7, Yard Baseball Club 4
Yard Baseball Club 000 031 0 — 4
Raiders 103 300 0 — 7
W — Briggs Fish. Sv — Ryan Cantrell
Raiders highlights — Kieran Severa 2-for-4, 2B, 2 RBIs; Shane Willoughby 2-for-4, 2 RBIs, 2 R; Anthony Miele 2-for-4, RBI
Copyright 2018 The Lawrence Journal-World. All rights reserved. This material may not be published, broadcast, rewritten or redistributed. We strive to uphold our values for every story published.