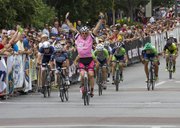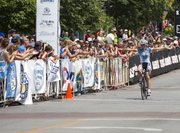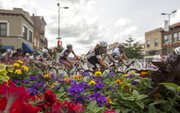 With so many cyclists bunched so closely, the people lining both sides of Massachusetts Street had little clue who would win Sunday's Downtown Criterium, the final leg of the three-day, fifth-annual Tour of Lawrence, but the riders themselves had a pretty good idea far sooner than that.
When a race comes down to a field sprint, the best sprinter in the field generally wins. As he proved Friday night in the street sprints, Brad Huff was the best sprinter in the field. Huff won his third consecutive Tour of Lawrence Downtown Criterium, giving him finishes of first, third and first for the weekend. Huff wins these races the way Jim Ryun used to win mile runs, by using his superior speed at the end to leave his competitors battling for second.
Huff, from Springfield, Mo., took the lead from 2008 Free State High graduate Joseph Schmalz in the final 100 meters, relegating Schmalz to second and Steve Tilford of Topeka to third.
"After the last corner, he blew my doors off," said Schmalz, winner of Saturday's KU Campus Circuit Race. "With two corners to go, I jumped, and he was right on my wheel, so I was pretty much guaranteed second with him on my wheel."
Long before that, Schmalz had an inkling where the 75-minute race was headed.
"With six (laps) to go, we knew it was going to be a field sprint with the way it was settling in," Schmalz said. "When it's going to be a field sprint, it's Brad's race to lose at that point."
Tilford, 53 and still going strong, bemoaned his third-place finish, but loved everything else about the weekend.
"Racing on Mass Street, there's no better thing than this," Tilford said. "It's such a special street. It's like Pearl Street in Boulder. It's pretty rare towns nowadays can keep a viable downtown. And Lawrence has done better than that. It's made it attractive."
As did Huff, Tilford gave Schmalz, 23, a strong endorsement for the progress he has made and said he's not even close to reaching his peak.
"Lance (Armstrong) didn't even win a Tour de France until he was 27," Tilford said. "You can just disregard Lance because that was all just super-charged. But cycling's a sport … as you mature, your best years are probably 28 to 35.
"Joseph started real young. I've been riding with him since he was a little midget. He's been racing for a long time. He's super race-smart, super savvied. He's really patient. He's a pretty good bike handler. He has everything he needs. He can climb pretty well. He's not missing anything. He's got the whole repertoire of qualities, and he's just going to keep getting better and better."
Schmalz said he was leaving today for Madison, Wis., site of the amateur nationals, where he will compete in races Friday and Sunday.
"Joseph is one of the top-caliber riders in the nation," Huff said. "He has a good chance of winning one of the two events at nationals."
Copyright 2018 The Lawrence Journal-World. All rights reserved. This material may not be published, broadcast, rewritten or redistributed. We strive to uphold our values for every story published.