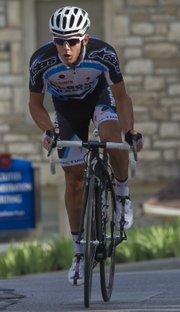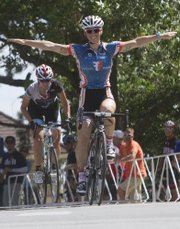 When 2008 Free State High graduate Joe Schmalz takes off on his long cycling rides north and northeast of his hometown, he enjoys the serenity of the fresh air and green fields, where nature supplies the soft soundtrack.
Today, in the third and final day of Tour of Lawrence, Schmalz would like to hear just the opposite during the Downtown Criterium. (Event organizer Bob Sanner said he expects the elite men to race at about 1 p.m.)
"Tour of Lawrence is a great event," Schmalz said Saturday after winning the grueling Campus Circuit Race for the second time in three years. "I just wish more people would come out and see it."
Schmalz, 23, expressed gratitude to those who did watch him Saturday, including friends and family members.
Brad Huff, winner of Friday night's 200-meter sprint on the 700 block of New Hampshire, represents Schmalz's tallest hurdle to clear in trying to win on back-to-back days. Huff wants to win the crit, but he also said he believes Schmalz deserves his hometown to turn out in huge numbers today to support the local boy made good.
"He's a phenomenal athlete, and he's local, but cycling's not a popular sport," Huff said, expressing a desire for Schmalz's profile to grow locally. "Very bright future. Very bright. He's great. I'm doing my best to get him on a bigger team."
For now, Elbowz Racing is happy to have Schmalz, who won Saturday's hilly race of 14 loops of 3.58 miles up and down the hills of the Kansas University campus. He covered the roughly 50-mile race and battled the strong wind in 2:08:56, 1:25 ahead of second-place finisher Brian Jensen of Lawrence and 1:44 ahead of Huff, who makes his home in Springfield, Mo. Huff is two-time defending champion of the Downtown Criterium.
Spectators will crowd the corners of Eighth and Mass streets and fan out from there to get the best vantage points of the race that features the speeding carbon bikes combining to make a sound somewhere between that of a buzz saw and a hornet's nest.
Many in the crowd might remember having teamed with Schmalz in youth soccer or in track and field at West Junior High.
"And I was always riding my bike," said Schmalz, who first raced in the Sunflower Games in Lawrence at the age of 9 after his grandfather, owner of Reynolds Bikes, a store in Atchison, signed him up for it. "When I went to high school was when I started riding my bike more. Once I got out of high school, I went to school for a couple of years, and then I realized this is really what I wanted to do. I took a year and put my mind to it and made it happen. So now this is what I do for a living. Technically, I'm an amateur. Hopefully, I'll be changing that soon."
Schmalz, who has competed as far away as Belgium, is set to race at the USA Amateur National Championships next week in Madison, Wis.
First things first. Today, he'll be the crowd favorite trying to upset Huff, the favorite.
Copyright 2018 The Lawrence Journal-World. All rights reserved. This material may not be published, broadcast, rewritten or redistributed. We strive to uphold our values for every story published.