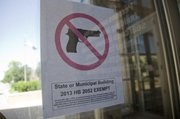 Building maintenance crews for Lawrence and Douglas County have posted new "no gun" signs on public buildings, indicating that the local governments have exempted themselves from the state's new concealed-carry gun law.
Bill Bell, director of buildings and grounds for Douglas County, said the new signs are designed to comply with guidelines that Kansas Attorney General Derek Schmidt sent to local governments.
Like the old signs, they show an image of a gun, with a circle around it and a diagonal line through it, to indicate weapons are not allowed inside. But the new ones also contain a written statement that cites the specific local ordinance or resolution number that makes the building exempt.
The new law expands the state's concealed-carry policy by requiring that people with valid permits be allowed to carry concealed weapons into most state and local government buildings, unless the building has other security measures like x-ray machines and metal detectors to ensure that nobody can carry a weapon inside.
But local governments could receive an automatic six-month extension from having to comply if they adopt a local ordinance or resolution and notify the attorney general, which both the city and county did.
They may also apply for a further extension to July 2017 if they adopt a security plan to put those screening devices into place.
Public school districts are exempt from the law, as is the Kansas Statehouse. Public colleges and universities do not have to comply until July 2017.
"We're literally just putting them up with Scotch tape," assistant county administrator Sarah Plinsky said. "We've been advised not to invest a lot in new signage until the first of the year."
Copyright 2018 The Lawrence Journal-World. All rights reserved. This material may not be published, broadcast, rewritten or redistributed. We strive to uphold our values for every story published.