Lawrence crime, fire, courts coverage
Have a tip?
Contact Journal-World reporter Caitlin Doornbos: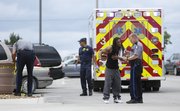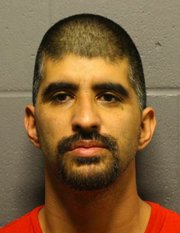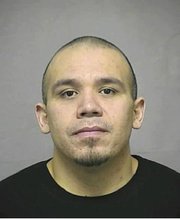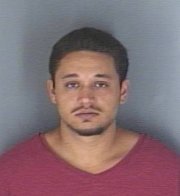 Four Topeka men will face a trial in a Lawrence robbery case allegedly involving the synthetic marijuana product K2, Douglas County District Judge Kay Huff ruled today.
Three of the four defendants pleaded not guilty today to burglary, robbery and drug charges, while a fourth will appear in court to be arraigned in July.
The four were arrested and charged days after an incident that was first reported to police as a shooting about 3 p.m. on June 1, in the parking lot of McDonald's, 4911 W. Sixth St. On Wednesday, the state's witness, Jon Crawford, 31, of Topeka, testified in court that he was the victim of a robbery when he arrived at the McDonald's to sell two pounds of K2 to one of the defendants.
Douglas County prosecutors have charged Anthony Foster, 30, of Minneapolis, Kan., with arranging that alleged drug deal. He pleaded not guilty to two felony drug offenses and is scheduled for trial on Sept. 4.
K2 first appeared in Lawrence in 2009 and has since been criminalized as a controlled substance by the federal government. It most recently made the news last week, when a federal grand jury in Kansas City indicted five people in an alleged $10.5 million conspiracy to distribute the drug.
In the Lawrence robbery case, Jesse J. Forbes, 38, of Topeka, pleaded not guilty to a felony drug charge and one count of aggravated robbery. He is scheduled for trial on Aug. 7. Justin Alcorn, 29, of Topeka, pleaded not guilty to one count of auto burglary after prosecutors dropped a drug charge filed against him earlier. He is scheduled for trial on Oct. 2.
Mario A. King, 34, of Topeka, was bound over for trial on charges of aggravated robbery, criminal possession of a firearm, a misdemeanor count of unlawfully seizing a vehicle, and two felony drug counts related to the alleged drug conspiracy. He is scheduled to be arraigned on those charges on July 2. King is on parole after spending nearly three years in Kansas prisons for killing a 20-year-old man in Topeka in 2008.
On Wednesday, Crawford, the witness, said King tried to rob him with a .44-caliber revolver in the McDonald's parking lot while Forbes attacked him from behind. Crawford testified about his role in the case after being granted immunity from state and federal prosecution. He had previously spent time in federal prison after being convicted of distributing the synthetic drug ecstasy.
Crawford told the court that he believed Forbes was motivated to rob him out of envy. "The only thing I can think of is jealousy," Crawford said. "My car. He likes girls that I like. He's a jealous person."
Copyright 2018 The Lawrence Journal-World. All rights reserved. This material may not be published, broadcast, rewritten or redistributed. We strive to uphold our values for every story published.