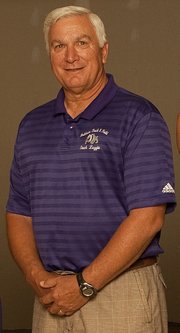 Even as he has collected awards and his teams have piled up championships in recent years, Ted Zuzzio never thought he would be enshrined in a hall of fame for high school coaches.
"I never knew such a thing existed, honestly," he said. "It was never something I envisioned."
So it came as a surprise to the Baldwin High coach of 37 years when he learned he would be inducted into the National High School Athletic Coaches Association Hall of Fame. Zuzzio, his wife, Karen, children and grandchildren traveled Tuesday to Des Moines, Iowa, where he was one of 31 coaches so honored Wednesday.
"This award is for Baldwin," he said. "I've been blessed with phenomenal assistant coaches and great kids."
But it was also an honor Zuzzio richly deserved, Baldwin High principal Rob McKim said.
"He knows what he's doing," he said. "That's the No. 1 thing. He has a tremendous knowledge of sports. He has a passion for what he is doing and a passion for the kids. When you combine all three of those things, you have a formula for success.
"I told him when he won this last state championship (as girls track coach in May), 'You have to have talent, but you made sure the kids had the knowledge and opportunity to be successful.'"
Zuzzio started putting together the elements of that formula at the knee of his father, Tony Zuzzio, a transplanted Easterner who played football with the Detroit Lions, married a Kansan while in the military and coached at Humbolt High.
"We had an undefeated football season and won the state championship in basketball my senior year in 1969," Ted Zuzzio said. "Dad coached everything — football, basketball, track and even golf. I'm a product of my father."
Zuzzio earned a scholarship to Pittsburg State for football and track. He prepared for his career with an undergraduate and master's degree in education.
He arrived at Baldwin High in the fall 1975 as an industrial-arts teacher and assistant football and track coach but soon added two new responsibilities.
"The principal prevailed on me to be the girls basketball and track coach," he said. "It worked out pretty well. We were 19-2 my first year in basketball and finished second in state. If we hadn't gone cold in the last minute, we might be talking about another state championship."
Zuzzio soon savored state championships, first as a football assistant to another legendary Baldwin High coach and close friend, Merle Venable, in 1981 and in girls basketball later that school year. The two championships came after he rejected the most serious attempt to hire him away from Baldwin.
"When they opened the new Olathe North High School, the principal came calling and calling and calling," he said. "I told the principal over there I couldn't go because we might win state championships in football and girls basketball that year, and that's what happened.
"I couldn't walk away from that. Money isn't everything."
His girls basketball team beat Sabetha for the 4A state championship in 1996 and lost to the same team in the state finals the next year. Like many coaches, Zuzzio remembers the games and the blocking fouls called by an official that benched one of his key players early in the 1997 title game.
One that got away that continues to haunt was the 1995 state girls track meet, at which Baldwin finished second by a point.
"I didn't sleep for five days after that meet," Zuzzio said. "We had so many crazy things go against us."
Those included officials missing a Baldwin girl's finish in the 100-meter dash because of the rain, a runner falling in the 300 hurdles and a one-year rule that penalized high jumpers not for total misses but for the number of jumps attempted. The rule cost two Baldwin girls points because they started jumping at a lower height than the athletes with whom they ended up tied.
There have been few haunting moments of late. After transitioning from high school to junior high basketball in 1998, he won his 500th game as a basketball coach in 2010 and compiled a career record of 521-147 before stepping down in 2012.
His Baldwin High girls track teams have won three of the last four state championships and finished a close second the one year in that span they didn't win the title.
Hall of fame memberships are usually given to retirees. Although Zuzzio isn't there yet, he said that day was not far away.
"Right now, I'm thinking possibly next year will be the finale for me," he said. "Thirty-eight years. That's a lot of yellow bus rides and driver's ed miles, too.
"But I have some really good kids coming back, and I want to be part of that."
Copyright 2018 The Lawrence Journal-World. All rights reserved. This material may not be published, broadcast, rewritten or redistributed. We strive to uphold our values for every story published.