Last weekend might have been relaxing for some, but for the teams of filmmakers participating in the Ninth Annual Wild West Film Festival, it was undoubtedly chaos and no sleep.
The theme is different every year, but the essential challenge remains the same in the wildest marathon film fest in the Midwest. Each team has 48 hours to create a four-minute short film and turn it in online to be judged in the competition. The top 25 films will be screened at 7 p.m. Saturday at the Lawrence Arts Center, with proceeds going to benefit Douglas County CASA, an organization that helps abused and neglected children.
The theme this year is "movie trailers," which means that teams will essentially be creating a trailer for a film that doesn't actually exist. A set of secret criteria (must include two of five listed physical objects, a ratings warning, and three specific trailer elements) helps to ensure they were filmed in the required 48 hours.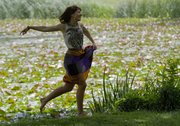 If you go
The Wild West Film Festival will be Saturday at the Lawrence Arts Center, 940 New Hampshire St. Tickets cost $7 for adults and $5 for youths and seniors. Proceeds benefit Douglas County CASA.
Although it's not clear what kind of genre Kansas University theater student Laurie Winkel is appearing in, she was dressed in full hippie regalia in some kind of picnic scene out by Potter Lake on the KU campus Saturday afternoon. The film is called "The Grass is Greener," and it's about a couple who takes an extended hiatus to test their love. It's a far cry from her horror-musical entry "First Date" from last year that was almost railroaded at the last minute by a nervous actor who was supposed to lip sync to a track recorded the night before.
"The actor, who had never met me, got visibly more and more nervous as he waited for an "action," crouched right next to my face for the scene. He didn't know the words to the songs, and he couldn't finish a take without having an anxiety attack. He ended up quitting on us late Saturday night, and the film was due Sunday," Winkel says. "We finally re-shot it in the wee hours of the night using the original singer, who was great despite claiming he didn't act."
Early on in his many appearances at Wild West, KU graduate Aubry Peters experienced the kind of nightmare that wakes most film editors from a dead sleep, hoping that's all it was. After principal shooting was completed, he and his team made their way to a computer lab on campus.
"We came to a stopping point and decided to stop, save our work, and come back the next day to finish up the editing. Little did we know that the labs clear the hard drives at the end of most nights. So we returned the next day to find that all of our work had been erased and we had to start from scratch," Peters says. "We made it, but just barely in time for the deadline."
The stories surrounding the making of the Wild West films are often as rich as the films themselves, which prompted Wild West organizer Derek Sellens and company to produce an 11-minute short film to promote the fest called "A 48-Hour Journey." This documentary short, which can be viewed on YouTube, is an entertaining overview of the festival from start to finish and follows writer/director Nathan Towns and his team (including editor/actor Peters) as they create and screen "Fourth Wall."
While filming a horror short for last year's "Scare Factor" October edition of Wild West, KU graduates Ben and Jacob Burghart had a run-in with the Lawrence Police Department. Because there's only two days to complete a film, there's not really time to acquire filming permits, or even time to ask permission for that matter. During this incident, the Burgharts were filming in the basement of an apartment complex they didn't live in.
"We were almost done filming when the police showed up on reports of people screaming. We then had to explain that we were in a 48-hour film festival, and had to convince the police that we were fine even though we were covered in fake blood in a dark basement and had been screaming for the last few hours," Ben Burghart says. Possibly empathizing with their time crunch, the police turned out to be in a generous mood. "They told us to keep it down and then let us continue."
"Neon Veins" is the name of the brothers' 2013 Wild West entry, and it has something to do with a '90s arcade hit and a drink that makes you invincible for an hour.
Last year, Sellens allowed Los Angeles filmmakers to enter the event through the participation of the Hollywood Hawks Career Orientation program, which finds placement in the film industry for Kansas University film school graduates. For 2013, the Wild West Film Fest is trying to attract filmmakers from across the U.S. and Canada by upping their online presence and adding a set of secret criteria that must be included in the films to ensure they were filmed in 48 hours.
Speaking of a quick turnaround, DVDs featuring the films screened at the Lawrence Arts Center on Saturday night will be available for purchase at the show, along with Wild West T-shirts.
Judges for the film festival include film director and KU associate professor of film and media studies Kevin Willmott; comic book author and KU film instructor Jai Nitz; and professional mixed martial artist fighter and current Wyoming Sports Combat Association Welterweight Champion Zak "Crash" Bucia.
Copyright 2018 The Lawrence Journal-World. All rights reserved. This material may not be published, broadcast, rewritten or redistributed. We strive to uphold our values for every story published.