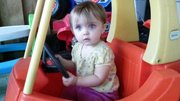 Lawrence crime, fire, courts coverage
Have a tip?
Contact Journal-World reporter Caitlin Doornbos:
The Osage County sheriff's deputy who found the remains of 18-month-old homicide victim Lana-Leigh Bailey last month has been recognized with awards from the sheriffs of Osage and Franklin counties.
Deputy Blake Reker was given a letter of commendation by Osage County Sheriff Laurie Dunn earlier this month, at the same time that Franklin County Sheriff Jeff Richards presented him with a Meritorious Service Award. Both sheriffs have said the deputy was working on his own initiative when he found the body in rural Osage County, even as dozens of officers from other agencies were involved in a coordinated search elsewhere.
Reker was in his first few months of patrol work when he discovered the child's body on May 11, days into an investigation of the killing of her mother and two men at a Franklin County farmstead. Lana-Leigh had been missing for more than a week and was presumed dead.
Kyle T. Flack, 27, has been charged in the killings of Lana-Leigh and the three adults. He is scheduled to appear in Franklin County District Court on July 8, and remains in Franklin County Jail in lieu of posting a $10 million bond.
Flack, who served four years for attempted murder in a previous case, faces charges of capital murder, first-degree murder, rape, and criminal possession of a firearm. His attorney has not responded to requests for comment on the case.
The Osage County Sheriff's Office had four investigators working on the multi-agency task force investigating the quadruple homicide, Dunn said, but, Reker was not one of them. "He took it upon himself to just look in every ditch and gully, just anywhere he could see," Dunn sad.
The bodies of Lana-Leigh's mother, Kaylie Kathleen Bailey, 21, Andrew Adam Stout, 30, and Steven Eugene White, 31, were found May 6 and 7 in and around a house at 3197 Georgia Road, about five miles west of Ottawa. More than 100 officers from several jurisdictions became involved in the investigation of the killings and the search for the missing child.
On May 11, Lana-Leigh was still missing and was presumed dead. Working on a hunch, the new deputy started his search near the Franklin County line and worked his way west into Osage County. The area is about 20 miles west of where the other bodies were discovered, and it is between Ottawa and Emporia, where police earlier that week had located Flack and a car belonging to Lana-Leigh's mother.
About 6 p.m., the deputy found some suspicious items and called Dunn. About four hours later, Lana-Leigh's body was found.
"It's upsetting for everybody," Dunn said. That was one reason why the sheriff's office waited several weeks before publicly recognizing Reker. "It wasn't the outcome anybody wanted, but you want to see closure for the family. It's a two-sided emotional trip."
Reker has been with the sheriff's office for about eight years, Dunn said, previously working as an emergency dispatcher and at the jail. He graduated from law enforcement training and started patrol in January.
Dunn said she was glad her office could help their neighbors in Franklin County. "We understand what Franklin County is going through," she said. Osage County was the scene of a triple-homicide and a quadruple murder in 2009.
Copyright 2018 The Lawrence Journal-World. All rights reserved. This material may not be published, broadcast, rewritten or redistributed. We strive to uphold our values for every story published.