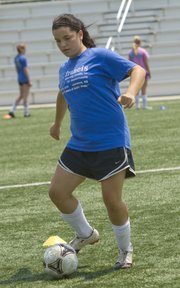 The timing of his hiring made it difficult for Lawrence High girls soccer coach Justin Young to get things on track when he took over the downtrodden program this past fall. Young wasn't introduced until November, and not being around before that put him behind.
Had he been able to work with the Lions last summer, as he has this week at the team's five-day camp for sixth- through 12th-graders, it most likely wouldn't have made a drastic change in the team's 1-15-1 record in the spring, but it certainly couldn't have hurt.
The new coach had all kinds of ideas about how he could help the program when he arrived and quickly found himself occupied with side missions, such as making sure players had the uniforms and equipment they needed.
Among the team's problems once the season began was an overall lack of comfort in many basic aspects of the game. Young said the Lions' twice-a-day summer camp sessions this week should be a good starting point for the 2014 season.
"We're really hoping," he said, "to strive to overcome the technical bumps that we've had."
Already with three years of goalkeeping experience at LHS, senior Alex Ewy has seen some rough seasons. Lawrence is 8-41-1 in that span, and Ewy doesn't doubt the revolving door of head coaches had something to do with it — Young became the fourth LHS coach in four years when he was hired. Ewy is glad he hasn't left like the others, because the players finally have a coaching staff they know and like.
"It'll help to have a little bit of continuity in the program, which we've definitely been lacking over the years," Ewy said.
The chance to work with lots of returning varsity players makes it all run a little more smoothly, too. Along with Ewy, seniors Danielle Campbell, Kayla Duncan, Gretchen Hierl, Laura Nielsen and Elsa Reagan and juniors Keeli Billings and Sadie Keller worked together with younger players at camp.
Hierl, a midfielder, said Young's late arrival had other effects on the program.
"We didn't have much time to strengthen our relationships," she said.
Campbell, a defender, agreed: "We didn't get to have the team chemistry that most teams get to have."
Now, unlike a year ago, Hierl said the Lions know what to expect out of their coach.
"He really believes in us and pushes us to get better," she said, "and cares about how we're feeling and what we want to get out of the season."
With a familiar coach in place, the players also understand Young's rotations and strategies well in advance of the season.
"We've seen his coaching style," Campbell said, "so now we can actually trust what he says."
The camp got everyone feeling better about the state of the program, and Young said the five days of work should do more than make the team's veterans more polished in their soccer abilities.
"Now I've got seniors from the beginning of camp saying, 'I want to be in that leadership role,'" the coach said.
Copyright 2018 The Lawrence Journal-World. All rights reserved. This material may not be published, broadcast, rewritten or redistributed. We strive to uphold our values for every story published.