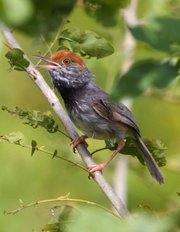 In the news
National and international media reports from this week on the discovery of the Cambodian tailorbird:
• CBS
• CNN
• BBC News
Contact KU and higher ed reporter Sara Shepherd
Have a tip or story idea?
---
More stories
The populous capital city of Cambodia was the unlikely site where a team of scientists recently discovered a new bird species. But before their finding could be confirmed, a small piece of muscle tissue had to pass through a lab at Kansas University.
A group led by researchers for the New York-based Wildlife Conservation Society announced through a journal article this week the discovery of a new species they've called the Cambodian tailorbird, or Orthotomus chaktomuk. Their finding began with photos of a bird found on a construction site on the outskirts of Phnom Penh, Cambodia's capital. But to confirm that this species was a really a new one, they required an analysis of its DNA.
That's where two KU researchers came in. Carl Oliveros, a Ph.D. student, and Rob Moyle, an associate professor of ecology and evolutionary biology, used the DNA sequencing lab at KU's Biodiversity Institute to determine that the bird was indeed unlike any that had been previously documented.
Moyle, also an ornithology curator for the KU Natural History Museum, had never been part of a species discovery before this year.
The number of new bird species found worldwide can number in the single digits in any given year, Moyle said. Those discoveries are much rarer than new species of mammals, reptiles, insects or any other type of animal.
"They're probably our best-known animal group of all," Moyle said.
And what made this discovery particularly remarkable was that the Cambodian tailorbird had apparently been hiding in a city of about 1.5 million people for years without being documented.
Most new birds, Moyle said, are found in places where few scientists have trod.
"It does happen, but it's pretty rare," Moyle said. "Most of the new species described are from remote mountains in the Andes or deep in the Congo rainforest. No one's ever worked there."
But even the populated parts of Cambodia haven't received a great deal of attention from scientists over the years, he said, largely because of the conflicts that marked the late 20th Century there.
It has gotten attention from KU researchers, though. Moyle and others have regularly visited Cambodia, Vietnam, Malaysia and other southeast Asian countries for ornithology research. (Moyle and Oliveras last visited Cambodia last November, but they've still not seen the Cambodian tailorbird in the wild.)
"We might be the most active lab working in southeast Asia," Moyle said.
That experience is why the researchers who discovered what they suspected to be a new species contacted Moyle's lab, which had already sequenced the DNA of other members of a group called tailorbirds from that region. (The DNA sequencing lab was one of eight at the Biodiversity Institute that got new homes after $3.5 million in renovations finished earlier this year.)
That group of birds gets its name from a unique behavior. They stitch the fibers of their nests through leaves, providing them with an arching roof to protect from the elements.
Like other tailorbirds, the Cambodian variety has a rust-colored head. Unlike the closest relative that Moyle and Oliveros discovered, it has a gray-colored back (instead of green) and a dark-colored throat with a uniform pattern, rather than dark streaks.
The Cambodian Tailorbird, which is documented in a journal published by the Oriental Bird Club called Forktail, is thought to be limited to a small area along the floodplain of the Mekong River. That means it could be in danger if its habitat is disturbed.
Though new bird species discoveries are rare, Moyle said, they're still out there to be found: KU is involved with four new findings altogether this year.
"There's a lot of birds out there, and some are hard to see," he said.
Copyright 2018 The Lawrence Journal-World. All rights reserved. This material may not be published, broadcast, rewritten or redistributed. We strive to uphold our values for every story published.