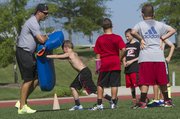 When they were in middle school, Erick Mayo, Drake Hofer and Kyle McFarland spent a few summer days at the city's youth football camp, learning about the game from Lawrence High and Free State coaches, as well as some former players.
The past three mornings at FSHS, they found themselves back at the camp. But this time, Mayo, Hofer, McFarland and their contemporaries were the old guys trying to teach the youngsters.
"They've kind of come full-circle," LHS coach Dirk Wedd said at the third and final day of camp.
Lawrence graduates Mayo, Hofer and Will Thompson, as well as Free State products McFarland, Chris Heller, Riley Buller and Miles Stevens and Firebirds senior Fred Wyatt (out for the year because of a torn left anterior cruciate ligament) assisted in educating 75 third- through eighth-graders — all aspiring city stars.
Wedd said the players-turned-coaches didn't hesitate to help out at the camp.
"They feel like they owe the community a little something for what they received," the LHS coach said.
The recent graduates didn't have to spend their summer mornings at a youth camp, but Heller said it was a rewarding and enjoyable experience.
"I just like being back on the field and being involved in football again," he said. "It's nice to be able to show these kids what Free State and LHS are about and get them better for the future."
The on-field rivals from Lawrence and Free State even managed to work together cordially, Hofer said: "Off the field, except for that one day when we play each other, we're real good friends."
Having former high school players as assistants, Free State coach Bob Lisher said, made it more fun for the campers, some of whom go to a lot of high school games and now get a chance to interact with the guys they've seen from afar on Friday nights.
Heller, who worked with receivers and defensive backs, could tell many are eager one day to represent one of the city's Class 6A programs.
"They're really wanting to learn all the routes," Heller said. "They always ask about what Free State does for this or what LHS does for that."
Hofer saw many kids improve quite a bit, too.
"They don't have a great wealth of knowledge yet," he said, "but they're taking the little things that we're teaching them and developing every day."
While Heller said the former players felt like coaches, Lisher joked they hadn't been in his or Wedd's shoes.
"These young guys listen," the FSHS coach said. "Those older guys don't listen."
Copyright 2018 The Lawrence Journal-World. All rights reserved. This material may not be published, broadcast, rewritten or redistributed. We strive to uphold our values for every story published.