One Lawrence family is adding beauty and color to the neighborhood while adding homegrown fruits and vegetables to their table.
Tucked in amongst the postage-stamp lawns and neat hedgerows of the Quail Run neighborhood, Hollie Journey and Devin Zell grow edibles in a semi-formal landscape setting that is as pretty as it is productive.
Journey and Zell get help from their daughter and son, who are excited to see the produce that comes from seeds they put into the ground. Sometimes Journey and Zell even add plants based on the children's interest, like the asparagus that went in this year.
Journey, who has gardened most of her life, says she is more familiar with a traditional garden layout with rows, but that they are trying to make the most of the space.
"It's like a puzzle," she explains, "figuring out where I can put things in and still make it look great. I really want it to be aesthetically pleasing."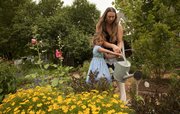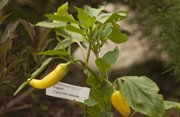 If you look close, you can pick out the tomato plants alongside the shrub roses, and strawberry plants that serve as a groundcover along
both sides of the walk. Bush cherries could be mistaken for ornamental shrubs any other time of year, but right now bunches of green fruit give them away.
Journey says the vegetable additions allow her the freedom to change the gardens a bit each year also because many of the plants are annuals. This year she went with a purple theme by planting purple-leaved spinach, tri-color sage, and Thai basil that complemented the perennial ornamental alliums, catmint and salvia.
"I knew a lot about vegetables, but less about ornamentals, so it is still a work in progress," Journey says. In its third year, however, the garden is quite spectacular.
Journey also notes she and Zell and the children spend a lot of family time in the garden. "We got each of the kids their own set of gardening tools and gloves. We both grew up where teaching your kids where food comes from is just what you do."
There are many different textures in this garden, also. Fuzzy-leaved lamb's ears create a soft, silvery mat in one section of the garden, while in another area the large coarse leaves and showy stems of rhubarb cry out for attention. Elderberries create a ferny backdrop to the garden when viewing from the street.
Another favorite of the gardeners is the hops vine that is working its way up the arbor near the front door. Two years ago, Journey and Zell harvested enough hops to use for hobby brewing, an added treat to their gardening efforts.
Although Journey and Zell have filled the front yard with this mix of edibles and ornamentals, Journey notes that lawns have their place.
"I think grass is fine — we have a patch in the backyard for the kids and the dog. I just think if I am going to put a lot of time and resources into something, I want it to give me something back."
When she's not working, taking care of the garden, or spending time with her family, Journey also volunteers her talents as a Douglas County Extension Master Gardener. Applications for the Fall 2013 Master Gardener class will be accepted until the class is full and are available at www.douglascountymastergardeners.org or from K-State Research and Extension-Douglas County, 2110 Harper St.
Copyright 2017 The Lawrence Journal-World. All rights reserved. This material may not be published, broadcast, rewritten or redistributed. We strive to uphold our values for every story published.