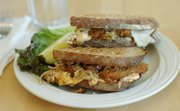 Being a vegetarian and enjoying Reuben sandwiches are not mutually exclusive in Lawrence, home of the Vegetarian Reuben. This sandwich has all of the required robust Reuben flavors — tangy peppered sauerkraut, melty Swiss cheese, creamy Thousand Island dressing and toothy grilled sourdough rye bread — without the meat.
In place of corned beef, WheatFields uses baked marinated tempeh, a smoky, nutty-tasting soy product similar to tofu but with whole soybean pieces (imagine regular tofu as creamy peanut butter, tempeh would be chunky). Have texture issues? Relax, the soybean chunks virtually disappear into all the other textures going on in this sandwich, not to mention leave no stringy meat to pick out of your teeth afterward.
Where to get it: WheatFields Bakery Café, 904 Vermont St.
What you'll pay: $7.75
Try it with: The sandwich needs nothing ... but don't miss an opportunity to enjoy one of WheatFields' decadent house-made desserts.
Also on the menu: More than a dozen other sandwiches made with artisan bread, including a Croque Monsieur on white sourdough, peanut butter and jelly on country French and Genoa salami and provolone on Kalamata olive bread. Also salads, soup, quiche, pastries, tarts, cookies, daily breakfast and bakery-fresh bread to take home.
Copyright 2018 The Lawrence Journal-World. All rights reserved. This material may not be published, broadcast, rewritten or redistributed. We strive to uphold our values for every story published.