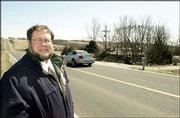 A 65-year-old former state legislator badly injured in a head-on collision in April is back in Lawrence and recuperating at a local rehabilitation center after undergoing several surgeries at Kansas University Hospital.
John Solbach said that he is making progress in physical therapy and is looking forward to going home. "It's a slow process," he said. "We're taking it one day at a time."
Solbach, who still works as a Lawrence attorney, suffered several broken bones on April 18, when the all-terrain vehicle he was driving in western Douglas County struck a car head-on. Solbach was driving a Kawasaki Mule ATV west on Stull Road about 9 a.m. when he entered the eastbound lane to make a left turn and collided with a car traveling eastbound. He was ejected from the ATV and transported to the hospital in critical condition, according to the Douglas County Sheriff's Office.
Solbach remained mentally alert after the accident, according to his wife, Pat. But he suffered a broken pelvis, hip, clavicle, arm and leg.
Now, Solbach has been released from KU Hospital and is recovering at a rehabilitation center at Brandon Woods at Alvamar. He is still using a wheelchair, he said, but is starting to put weight on his legs as he learns how to walk again.
"It's a lot more complicated than I thought it would be," he said. "I have to teach my muscles how to do what they're supposed to do."
Solbach hopes to go home in about a month, he said, and doctors have told him that he could be at 80 percent of his former strength in about a year. In the meantime, he said, his wife is keeping him company, his son is watching their farmstead in western Douglas County, and other attorneys are stepping in to help with cases at his law firm.

"I'm certainly grateful to those who kept me alive in the beginning, and put me back together," he said.
Following the accident, sheriff's deputies issued Solbach two citations: one for failure to yield to an approaching vehicle when turning left, and one for failure to a wear seat-belt, according to Lt. Steve Lewis, a sheriff's office spokesman.
All-terrain vehicles are legal to drive on county roads, but are prohibited on Lawrence city streets, according to the sheriff's office and the Lawrence Police Department.
Copyright 2018 The Lawrence Journal-World. All rights reserved. This material may not be published, broadcast, rewritten or redistributed. We strive to uphold our values for every story published.