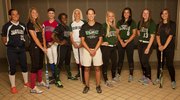 Player of the year
Sophia Templin, De Soto
As her team's only pitcher, the Wildcats senior struck out 143 of the 599 batters she faced and played a starring role in De Soto's Class 4A state championship this spring. An intelligent and fierce competitor, Templin added to her team's offense as well, with a .348 batting average, 18 runs scored and 20 RBIs.
Coach of the year
Junelle Woolery, De Soto
The Wildcats, who entered the 4A state tournament as the No. 4 seed, knocked off two previously undefeated teams — Paola in the semifinals and Augusta in the championship game — to end their season as 4A's best. Led by seniors Templin, Hunter Klamm and Lauren Mabe, Woolery's team finished 19-3.
First team
Haidyn Bassett, Oskaloosa
The freshman hurler's superior placement and variety of pitches helped Oskaloosa achieve a 20-2 record and a second straight trip to the 2-1A state tournament, where the Bears finished fourth. Bassett went 19-2 with 19 complete games, 238 strikeouts and a stingy 0.85 ERA. She hit .516, with 27 RBIs.
Morgan Byrn, Lawrence
An All-Sunflower League first-team utility player, the sophomore spent most of the spring at third base but also played six games at shortstop. Byrn batted .580, scored 18 runs, drove in 26, reached base in 61.8 percent of her at-bats and delivered 11 doubles, four triples and a home run.
Hunter Klamm, De Soto
In her four years of varsity softball, the senior shortstop became known for her range, arm and ability to make spectacular plays. Klamm led off the Wildcats' lineup and could slap the ball or drive it. She hit .562, scored 35 times, had 28 RBIs and slugged 1.038, with 10 doubles, eight triples and four home runs.
Lauren Mabe, De Soto
Another four-year starter at DHS, the Wildcats' senior first baseman cleaned up for the potent championship lineup. Mabe had a knack for delivering in the clutch and hit .577, with 17 doubles and five home runs, achieving a 1.028 slugging percentage.
Lexie Myers, Mill Valley
A pitcher and outfielder for 5A state runner-up Mill Valley, the sophomore threw 12 complete games for the Jaguars (19-5), going 10-3, with a 1.79 ERA and 48 strikeouts. Myers, a member of the All-Kaw Valley League first team, did her share offensively, too, batting .419, with 17 RBIs.
Konner Patterson, McLouth
Opponents hated to see the Bulldogs junior step into the batter's box, so they walked her 28 times — 12 intentionally. Patterson, a three-time first-team All-Delaware Valley League selection, finished the spring hitting .756. She belted 11 home runs, seven triples and six doubles.
A'Liyah Rogers, Free State
A mainstay of the FSHS softball program the past four seasons, the senior shortstop and leadoff hitter helped the Firebirds reach the 6A state tournament for the first time since 2007. Rogers stole 14 bases in 15 tries, hit .597, crossed home plate 37 times and knocked in 13 runs.
Whitney Rothwell, Free State
With the help of their junior first baseman, the Firebirds tied a program record with 19 wins and went 10-1 in the Sunflower League, the best-ever mark for FSHS (which finished second to Olathe East). Rothwell's .603 batting average came from a 44-hit season that included seven doubles, three home runs and 26 RBIs.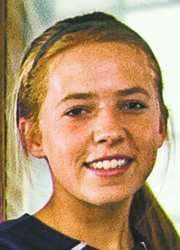 Kelli Spring, Mill Valley
Serving as the Jaguars' leadoff hitter and team leader, the senior shortstop helped orchestrate a 19-5 season, which ended in the 5A state title game, with a 5-0 loss to Wichita Bishop Carroll. Spring hit .551, stole 22 bases on 23 attempts, scored 37 runs and produced nine doubles, six triples and 15 RBIs.
Sophia Templin, De Soto
A Kansas University signee, De Soto's state champion senior pitcher went 19-3 in her final season in a Wildcats uniform. Templin kept her composure in the bottom of the seventh inning of the 4A title game against Augusta. With no outs in a 7-3 game and the bases loaded, she struck out two and got the clinching out on a pop-up.
Honorable mention
Briahna Beckman, Santa Fe Trail; Kendall Blanco, Ottawa; Tori Broers, Wellsville; Brianna Brooks, Oskaloosa; Taylor Brunson, Mill Valley; Kelsey Bowser, Perry-Lecompton; Shelby Dahl, Santa Fe Trail; Justine Dougan, Wellsville; Jordan Erickson, Perry-Lecompton; Kenzie Garvin, Lawrence; Caly Ingle-Maxwell, Tonganoxie; Hannah Hedges, Ottawa; Moriah Kayhill, Wellsville; Jaycee Knipp, Tonganoxie; Marissa Martin, Tonganoxie; Madison Miller, Oskaloosa; Meredith Morris, Free State; Shannon Greene, McLouth; Elizabeth Seimers, Ottawa; and Megan Zaldivar, Perry-Lecompton.
Copyright 2018 The Lawrence Journal-World. All rights reserved. This material may not be published, broadcast, rewritten or redistributed. We strive to uphold our values for every story published.