Since the summer season began, Lawrence Raiders center fielder Kieran Severa has made a point to stay in coach Brad Romme's ear about pitching a few innings. With a busy six-game weekend ahead, Tuesday night's game against Next Level Baseball at Free State High provided the perfect opportunity.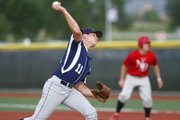 "They didn't want to get rid of any of our good pitchers," Severa offered, with a smile. "So they decided to throw me out there. Why not?"
The right-hander never looked out of place on the mound, playing much closer to the plate than usual, but the Raiders' offense only scared up five hits in a 6-3 loss.
Severa threw four innings, surrendering five hits and two runs, while walking one and striking out one. He pitched a lot when he was younger, but hadn't thrown at all in a game since last summer. Still, he began strong with back-to-back ground-outs in the first. Severa felt pretty good about himself before Vincent Ramos crushed a two-out, solo home run over the left-field scoreboard.
"He put one up in the wind, and he hit it plenty hard to get it out of here," Severa said. "That was a mistake on my part. I threw one high and inside on their three-hole. That's just not what you're supposed to do as a pitcher."
The fill-in hurler only made one other major misstep, giving up a two-out, RBI triple to Chaz Burgess in the top of the second, which gave NLB a 2-0 lead.
"As someone who hasn't pitched in 365 days, (giving up) one home run, for the most part it wasn't too bad," Severa said.
Though the pitcher was credited with a loss, the offense truly was to blame. The Raiders (8-7-1) had been shut out through five innings before Drew Green knocked a solo home run to right-center field in the bottom of the sixth.
Lawrence would have lost 5-1 had the game gone seven innings, as usual, but the two teams' coaches agreed before the game to play eight instead, in order to give some pitchers a little more live action.
Down, 6-1, entering the bottom of the eighth, the Raiders' Adam Rea drew a one-out walk, CJ Stuever singled and Green later walked with two outs. That allowed Lee McMahon to plate Rea and Stuever with a bloop single down the right-field line.
Romme flipped the Raiders lineup against NLB, putting four typical top-five hitters Stuever, Shane Willoughby, Green and McMahon at the bottom of the order. He made the move to give other players more at-bats, but Green said the change didn't account for the lack of offense.
"Most of us can handle that," Green said. "Our whole team, we're pretty loose. We were just a little distracted tonight."
Romme agreed the Raiders approached the game too casually: "It takes a special guy who can turn it on and off — those are major leaguers. We need to work on that."
NLB had a pair of city players in the lineup. Lawrence High's Michael Sinks went 1-for-2 and Free State's Cameron Pope was 1-for-3. Both singled.
The Raiders will play six games in three days at an in-town showcase this weekend. All Raiders games will be at LHS, beginning with two on Friday at 2 p.m. (SFC White) and 4:30 (KC Force).
Next Level Baseball 110 002 11 — 6 9 0
Lawrence Raiders 000 001 02 — 3 5 1
W — Davis Schwab. L — Kieran Severa.
2B — Greyson LaPlant, Schwab, NLB; Anthony Miele, Lawrence. 3B — Chaz Burgess, NLB. HR — Vincent Ramos, NLB; Drew Green, Lawrence.
Raiders highlights — CJ Stuever, 2-for-3, R; Green, 1-for-2, RBI; Lee McMahon, 1-for-3, 2 RBI; Miele, 1-for-3.
Copyright 2018 The Lawrence Journal-World. All rights reserved. This material may not be published, broadcast, rewritten or redistributed. We strive to uphold our values for every story published.