Area wheat farmers were able to get some cutting in this week before Tuesday's rains put a damper on the start of the harvest season in Douglas County.
Local grain elevators reported minor activity in the fields the past couple of days, predicting that the harvest will begin in earnest later this week.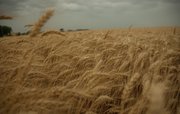 "We got in one load this morning," Verlyn Gilges, of Baldwin City Feed Co., said Tuesday afternoon, adding that the farmer was from Eudora. "Of course, the rain put a stop to that."
In the southwest part of the region, the Overbrook Co-op had yet to see any action as of Tuesday afternoon, though locations in Burlington, Waverly, Burlingame and Ottawa had received some loads of wheat.
"I think we will by the end of the week," said Mark Easton, branch manager of the Overbrook Co-op. "We might even get some in the next day or so if it stops raining."
Growers like Kermit Kalb, who farms east of Baldwin City, did some test-cutting on Monday and planned to resume the harvest this week once the wheat dried some more.
Kansas Agricultural Statistics Service reported Monday that 8 percent of the state's winter wheat crop has been cut. The agency said 45 percent of the Kansas wheat crop was in poor to very poor condition. The trade group Kansas Wheat says harvest activity has spread as far north as Hays and as far west as Scott City. Early indications are that the harvest has been coming in as good — and as bad — as had been anticipated, depending on where the rain had fallen.
— The Associated Press contributed to this report
Copyright 2018 The Lawrence Journal-World. All rights reserved. This material may not be published, broadcast, rewritten or redistributed. We strive to uphold our values for every story published.