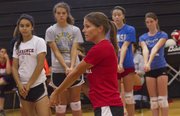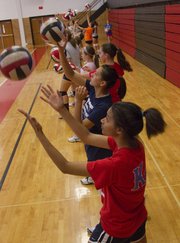 The realm of competitive sports holds potential for mental fatigue. So if Lawrence High volleyball coach Stephanie Magnuson can do anything to change that for her players during the summer, she will.
The time for stressing about winning varsity spots can wait until two months from now. This week, throughout the team's five-day camp for freshmen through seniors, Magnuson wants the Lions' minds focused on anything but that.
"Camp is more of a time for them to have fun with the game," she said, "and learn the game without the pressure of who's gonna be on what team come August."
The first afternoon of camp Monday, players worked on individual skills, such as the mechanics of passing, jump serves and footwork. Such workouts will continue to be the focus until Thursday, when team drills will be introduced prior to a Friday tournament.
With Magnuson keeping things laid-back, senior Caitlin Broadwell said the atmosphere should benefit the program's youngest players as she and fellow seniors Sami Buffalomeat, Jessica Lemus, Savana Sharp, Marly Carmona and Kristen Gile, as well as sophomore Caroline Dykes, a returning varsity contributor, try to set a good example for the team's incoming freshmen. Broadwell won't be able to participate in physical activity at the camp due to a medical condition, but that didn't stop her from coming to encourage her teammates and coach them up from the sideline.
"We get to work on things we don't usually focus solely on in practice," she said of camp. "It's a lot more fun, because you get to be with everyone."
While competing for varsity spots isn't a part of camp, Buffalomeat said part of the week's intrigue comes from playing with the younger Lions and seeing who will be next to make their way up the program's ranks.
"With the older girls, it helps to have competition," Buffalomeat added.
Magnuson mixes the girls randomly into teams, so players from all classes can intermingle at camp. Buffalomeat said the veterans try to make the less experienced teammates feel comfortable through positive reenforcement. Magnuson's hope is that every player at LHS will grow from the experience.
"Hopefully that will bring them into tryouts with a sense of who each other are," the coach said, "and not just specific to the team (varsity or sub-varsity), but specific to the program."
While individual improvement will carry the bulk of camp activities, Magnuson said the Lions, who lost six players from last season to graduation, get time to develop cohesion at open gyms — held three times a week this summer, through the second week of July.
At those sessions, Buffalomeat said ball control and passing have made Lawrence look good: "Our setting and our hitters are getting better connections, and that's what we're gonna need this season."
When camp ends Friday afternoon, Magnuson hopes the players will leave feeling rejuvenated about volleyball and looking forward to August — even the stress of tryouts.
Copyright 2018 The Lawrence Journal-World. All rights reserved. This material may not be published, broadcast, rewritten or redistributed. We strive to uphold our values for every story published.