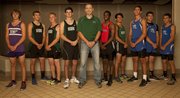 Athlete of the year
Angel Vasquez, De Soto
After earning the All-Area cross country runner of the year award this past fall, Vasquez completed his final year at De Soto as the area's top track athlete. In his last weekend of high school competition, Vasquez won the Class 4A state title in the 3,200-meter run, in 9:41.03, more than eight seconds ahead of runner-up Riley Osen, of Winfield.
Coach of the year
Brian Dinkel, De Soto
With the help of Vasquez (3,200 and 1,600), pole vaulter Brent Johnson and the 4x800 relay team of Jacob Schnieders, Luis Murillo, Nicholas Mechler and Chad Ollendick, Dinkel's Wildcats finished 10th among boys track and field teams at the 4A state meet.
First team
Colin Coleman, Perry-Lecompton
The junior not only helped the Kaws win a state title in the 4A 4x400 relay, he finished third at state in the open 400 and ran on the seventh-place 4x100 relay team a few weeks after winning the Big Seven league championship in the 400 and taking second in the league's 100.
Riley Davis, Perry-Lecompton
With the senior's help, Perry-Lecompton's 4x400 won every race except one this spring — at the Topeka Seaman Relays, where the group finished third, behind eventual 6A state runner-up Shawnee Mission Northwest and 5A state runner-up Seaman. Davis also ran for the PLHS 4x100 relay team.
Ethan Hartzell, Baldwin
An untimely injury left the junior unable to compete at regionals, and therefore he didn't get to go to state. Before Hartzell, who also ran on Baldwin's 4x800 relay, was hurt, he put up season-bests of 9:40 in the 3,200 and 4:35 in the 1,600. He finished as runner-up in both races at the Frontier League Meet.
Will Hinrichsen, Perry-Lecompton
The Big Seven's league champion long-jumper, Hinrichsen teamed with Coleman, Davis and Seth Surface to win 4A's 4x400 state championship in 3:26.32. The dominating group of runners finished 3.8 seconds ahead of state runner-up Wamego, ending a nearly flawless season with a bang.
Nick Hocking, Free State
Competing at state for the first time, the Firebirds sophomore thrower set a personal record in the discus, with a heave of 152-9. Hocking's mark, second-best in FSHS history, earned him a sixth-place state medal.
Dan Krieger, Free State
After clearing 13 feet at both the Sunflower League and regional meets leading up to state (Krieger finished third at league and tied for second at a 6A regional), the Firebirds senior vaulted even higher in his prep finale, going for 14-0 for a fourth-place medal.
Erik Parrish, Lawrence
A 6A state-qualifier in both the triple jump and long jump, the LHS junior shined in the triple jump all spring. In his primary event, Parrish won a regional championship with a mark of 44-11 to move on to state, where he took fourth place, jumping 44-3.
Stan Skwarlo, Free State
Skwarlo not only ran for the Firebirds' state-qualifying 4x400 relay team, but also brought home a pair of 6A state medals. He capped his junior season with a 4:26.84, sixth-place finish in the 1,600 and ran the 800 in 1:58.66, also good enough for sixth place.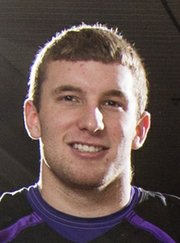 Dayton Valentine, Baldwin
On his final weekend of competing at BHS, the 6-foot-4, 240-pound senior launched his discus 168-8 and chucked his shot 60-4.5 (a school record), for second-place state medals in 4A. Valentine, a greyshirt signee with Kansas State football, also holds the Baldwin record in discus (178-2).
Angel Vasquez, De Soto
A Frontier League, regional and 4A state champion in the 3,200, Vasquez consistently out-ran his competition and set a personal record in his senior season at 9:26. He also finished fifth at state in the 1,600 after capturing league and regional titles in that event.
Honorable mention
Zach Griffiths, De Soto; Mark Harman, Baldwin; Ben Johnson, Tonganoxie; and JD Woods, Lawrence.
Copyright 2018 The Lawrence Journal-World. All rights reserved. This material may not be published, broadcast, rewritten or redistributed. We strive to uphold our values for every story published.