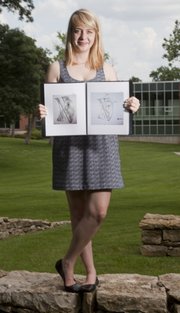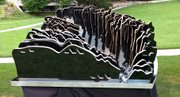 A few years ago as an art student at Free State High School, Hannah Lodwick considered art and academia separate fields.
A major convergence of the two happened at the Kansas City Art Institute, where Lodwick just won a sculpture competition and graduated with a double major in painting and art history.
"There isn't really a separation for me," she now says, "and I think that has really grown my work incredibly."
Lodwick, now living in Kansas City, Mo., is embarking on a career in art with a goal of creating publicly accessible work that blurs the lines between fine art and academia.
"I'm really interested in the every day," she says. "And I think that art — both music and visual art — are really beneficial for other people."
Lodwick is interning at Plug Projects, a West Bottoms gallery with an active programming schedule that aims to provoke conversation and bring community members together over art. She's looking for a full-time job and plans to continue making her own art, hopefully building a body of work for a solo show and possibly a residency.
Lodwick has exhibited in several student group shows at downtown Kansas City galleries but the sculpture competition did more to get her name out.
The competition was a biennial collaboration between the Art Institute and Zahner engineering and fabrication — a Kansas City firm renowned for its steel work on landmarks such as Kansas City's Kauffman Center for the Performing Arts and New York's 9/11 Memorial. Zahner fabricated the winning artwork, Lodwick's "Factum Through Topography," and donated it for an auction to benefit the Art Institute scholarship programs.
"Factum," which sold for $11,000 to an Art Institute board member, brought in the most of any artwork in the auction, Lodwick says.
The work aims to straddle the line between drawing and sculpture — the whereabouts of which is a longstanding debate.
"I'm interested in finding out what that means currently, in 2013," Lodwick says.
"Factum" features 40 organically shaped fins placed parallel to one another. The sides of each fin are black-mirrored stainless steel, and the edges are bright silver aluminum. As in a black-and-white drawing, the dark parts mimic shadows while the light edges represent highlights. Slits cut into the fins represent other high contrast spots.
Lodwick says she started taking Lawrence Arts Center art classes at "the earliest age possible." In high school she switched her focus to classical drawing and painting and was named the Journal-World's ArtStar for 2008-2009. At the Art Institute, she says, she brought all the mediums back together and started thinking more about the public realm.
On a campus full of talented art students, it's not easy to stand out, says James Woodfill, an assistant professor in the Art Institute's painting department. But Lodwick's hard work and interest in how public policy could influence art were unique in his class, he says.
One of Lodwick's projects in Woodfill's intensive studio class explored Google Fiber's infiltration in Kansas City and how the technology interacted with different economic structures. The installations featured plexiglass sculptures and video projections.
"She was investigating the city through Street View, kind of a tongue-in-cheek way of pointing out the virtual nature of our information," Woodfill says. "She's a good artist and a forward-thinker, and I think she'd do the city good to engage it."
Lodwick hopes to go to graduate school in a couple of years, preferably a program that combines art with theory or art history. After that she's not sure what she'll do but says, "I would like to serve the community as much as possible through my job."
Copyright 2018 The Lawrence Journal-World. All rights reserved. This material may not be published, broadcast, rewritten or redistributed. We strive to uphold our values for every story published.