Des Moines, Iowa — Kansas University senior Andrea Geubelle placed seventh in the long jump at the USA Track and Field Championships on Saturday at Drake Stadium.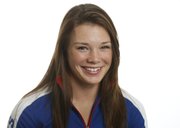 Geubelle, who won the triple jump on Thursday, finished her stay at the championships with a mark of 6.37 meters (20 feet, 10.75 inches).

Geubelle, who likely competed in a Kansas uniform for the final time, was the first Jayhawk to earn individual championships at three different levels — Big 12, NCAA and American — since KU shot-putter Karl Salb in 1973.
Kansas senior Paris Daniels qualified for today's semifinals of the 200 meters with a wind-aided time of 22.59 seconds. The mark was the third-fastest in school history.
KU junior thrower Jessica Maroszek will also take the field to compete in discus today, the final day of the championships.
Copyright 2018 The Lawrence Journal-World. All rights reserved. This material may not be published, broadcast, rewritten or redistributed. We strive to uphold our values for every story published.