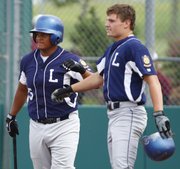 Prior to Friday evening, Lawrence Raiders catcher Drew Green had struggled at the plate this summer, at least by his standards.
It's safe to say he's out of a funk.
Green went 4-for-4 and smashed his fourth double of the game to the right-field wall in the top of the seventh to score the go-ahead run in the Raiders' 10-9 victory over the Wichita Sluggers at Free State High.
"We knew at any time he was gonna break out," Raiders coach Brad Romme said of the reigning high school player of the year in Kansas. "It was coming off the barrel with some velocity today. He was just seeing the ball big."
Playing in their second of four games at the Jayhawk Classic, a four-day showcase for 18-and-under teams organized by Kansas University, Lawrence (7-5-1) surrendered three runs on one Wichita hit in a mistake-filled bottom of the sixth and trailed for the first time, 9-8.
But Raiders nine-hole hitter Tristan Garber, who went 2-for-3, led off the top of the seventh with a walk and moved to second base on a wild pitch by Austin Gronau. Though the Sluggers reliever got CJ Stuever to line out to second base and Kieran Severa to ground out to shortstop, Shane Willoughby tied the game with a two-out single up the middle.
"I knew," Willoughby said later, "Drew was gonna come through with another hit."
As his Raiders and Lawrence High teammate thought, Green stepped up with an RBI double that proved to be the game-winner once Raiders reliever Adam Rea retired the side in order in the bottom of the seventh.
Green, who finished with four RBIs, said Garber's walk set the comeback in motion.
"We just went up there with confidence and knew the guy couldn't beat us," Green said.
Though Green scored a run in the sixth after knocking a ground-rule double to the right-field gap and drove in three more runs with a second-inning double, he wasn't ready to take credit for the victory.
"I just got hot, I guess," Green said. "We were swinging well as a team."
Lawrence pounded 15 hits in the victory, with Stuever, Severa, Garber and Willoughby each contributing two. All but Garber drove in a run.
Willoughby didn't mind praising Green for his performance, though. The shortstop called his buddy Lawrence's Jansport, because he put the team on his back.
"Drew was kind of supporting the back pack. He was incredible today," Willoughby said.
"It's easy to say I'm used to seeing that," Willoughby added, "but then you look back on it, you go look in the paper, you're gonna be like, 'Wow. He went 4-for-4 and walked and had four RBIs.' That's not a bad day. He's been doing that since we were eight years old."
Raiders not playing legion schedule
Romme said the Raiders are sponsored locally by American Legion Post 14, but they're not playing a traditional Legion schedule this summer, because there aren't many Legion teams nearby anymore. The Raiders won't play in a Legion zone tournament this summer, either. They did last year, but after advancing to state, most of their players had left for college.
Lawrence Raiders 10, Wichita Sluggers 9
Lawrence 132 002 2 — 10 15 2
Wichita 010 323 0 — 9 9 2
W — Adam Rea. L — Austin Gronau.
2B — Drew Green (4), Lawrence; Jordan Miller, Clayton Milford, Wichita.
Raiders highlights — Green, 4-for-4, 4 RBI; Kieran Severa, 2-for-4, 2 R, RBI; Shane Willoughby, 2-for-4, 2 R, RBI; Tristan Garber, 2-for-3, R; CJ Stuever, 2-for-5, R, RBI; Ryan Stagg, 1-for-4, RBI; Jacob Seratte, 1-for-4, R; Sam Hearnen, 1-for-4, R.
Copyright 2018 The Lawrence Journal-World. All rights reserved. This material may not be published, broadcast, rewritten or redistributed. We strive to uphold our values for every story published.