As many of us know, love doesn't always last forever.
So it goes, as well, with Lawrence's "love" garage.
The garage door on Mississippi Street across from Memorial Stadium that has acted as a background for numerous engagement and wedding photos has been painted over. The how, why, when and who parts, however, are still unknown.
Lawrence residents took to social media to express their displeasure with the new (technically illegal) work of public art. Some even talked of restoring it to the way it was before.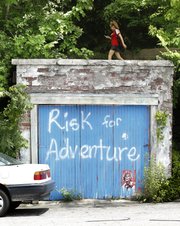 "Boo! Who would do that!?" Gina DeBacker reacted after seeing a photo of the new paint job on Facebook. She and her husband, A.J., took their anniversary photos in front of it last year.
In truth, however, the garage has been the site of random tagging for decades. Even the "love" message itself was an act of vandalism.
One day about six years ago, owner Deb Spencer decided she had had enough of the defacement. She painted the garage red.
That didn't stop Sammy Owen, a Kansas University student who put "love" on the door next to a screen print of the 17th-century Italian artist Artemisia Gentileschi, making it look like as if she had painted the word.
Oddly enough, Owen's graffiti put the stop to the vandalism problem at 1200 Mississippi St. Something else happened, too: People started taking pictures of themselves in front of the garage, particularly young couples looking for an appropriate backdrop for engagement or wedding photos. It also became a university icon of sorts and was used in KU memorabilia and an ad campaign for the school's athletic department.
A few months ago, the fabric that kept the "love" garage in place for five-plus years started to come undone. First, someone put a stencil portrait of Marilyn Monroe on the bottom right-hand side on the door. Then, around the time of KU's commencement, an unknown assailant painted the letter "G" in front of "love," turning it into "Glove."
Finally, in the past week or so, someone painted the entire garage — except for Monroe's face — Dodger blue, spray-painting "Risk for Adventure" over it in white.
"For some reason, I've always been drawn to it," Lawrence photographer Jana Butcher said of the "love" garage. "I've taken hundreds of pictures of it. It's sad for it to be gone."
Reached about the new design earlier this week, Spencer said it was news to her. She hasn't parked in the garage for years, stopping after visitors to KU or the football stadium continually ignored her "no-parking" signs. She later used the space for storage.
Photo Gallery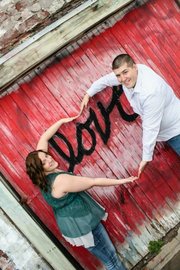 The 'love' garage
The beloved "love" garage on Mississippi Street across from Memorial Stadium has been painted over, but its days of representing love for many Lawrencians will last through photography. Here's a gallery of user-submitted - mostly engagement - photographs from the garage's glory days.
"We won't repaint the 'love,'" Spencer said, sounding as if she had long ago surrendered any control she might have had over the door's fate. "We'll just wait for whatever comes next."
Owen, now a graphic artist living in California, said he was actually happy to hear his work had been painted over, as it was never meant to be permanent.
"As a matter of fact, it was vandalism and illegal," the 26-year-old said. "I guess the community should really thank the garage owner for leaving it up for so long."
DeBacker, who posted her sadness about the incident on Facebook, met her husband in a taekwondo class at KU. When it came time to take anniversary photos last year, the Topeka magazine editor thought the "love" garage would be a perfect setting. She had walked by it whenever she had class at the Spencer Museum of Art, the simple, graffitied message always putting a smile on her face, she said.
But in a college town, the student body is always replenishing, a fresh bundle of youthful energy eager to leave its own mark on its transitory home.
"I respect that a new generation of students' voices want to be heard," said DeBacker, 27. "But I will always prefer the original."
Copyright 2018 The Lawrence Journal-World. All rights reserved. This material may not be published, broadcast, rewritten or redistributed. We strive to uphold our values for every story published.