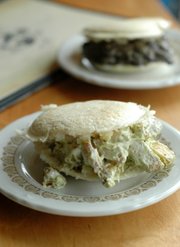 This South American sandwich, popular in Venezuela and Columbia, is served with many fillings, and this favorite version has the Spanish word for "queen" in the name. Chicken salad with avocado and potato is stuffed into a grilled, white cornmeal cake — crusty on the outside and soft like cornbread on the inside — sliced like a hamburger bun.
Where to get it: Global Cafe, 820 Massachusetts St.
What you'll pay: $4.50
Try it with: Hot sauce — there's Cholula on the table.
Also on the menu: More arepas including the popular black bean with feta and avocado, pressed sandwiches (No. 1 on the menu is the Cuban, featuring marinated roasted pork, sliced ham and Swiss), salads, omelets and other breakfast items. Vegetarian dishes are all labeled with a little green leaf. The beverage list is all over the board, with espresso drinks, Thai coffee, hot tea, Jarritos Mexican soda and V8.
Copyright 2018 The Lawrence Journal-World. All rights reserved. This material may not be published, broadcast, rewritten or redistributed. We strive to uphold our values for every story published.