Lawrence Raiders catcher Lee McMahon helped save a 5-3 victory on Saturday afternoon at Lawrence High by simply paying attention.
Photo Gallery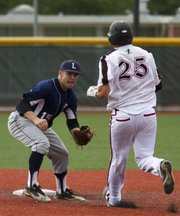 Lawrence Raiders vs. Natural Baseball Academy
After Natural Baseball Academy put runners on first and second with nobody out in the top of the seventh, the Raiders catcher noticed NBA's coach called over the next batter, Shane Gottsch, for a long conversation.
"I was like, 'OK, something's going on here,'" McMahon said. "So I called a pitchout, and we just kind of got lucky."
Or rewarded for being attentive.
As expected, Gottsch tried to bunt and pulled the bat back on the high-and-outside pitch. McMahon then snapped a throw to second base, where the Raiders were able to get NBA's Sam Harding out in a rundown.
That heads-up play helped the Raiders escape the final-inning jam, as pitcher Briggs Fish struck out Gottsch then coaxed a grounder from Braden Bass to end the game.
Lawrence's players probably didn't expect the result to be so close.
NBA, which is made up of select players from northeast Kansas, is a 16-and-under team, while the Raiders' roster consists of players that just completed either their junior or senior years of high school.
"You tell yourself, 'We should whup these guys,'" Lawrence's Drew Green said, "and I think you try a little too hard instead of just playing your game."
Green provided the go-ahead RBI in the bottom of the fifth.
Following a one-out double from Kieran Severa, Green stepped up with two outs in a 3-all tie. The reigning high school state baseball player of the year — after being walked in his two previous trips — knocked an RBI single to right to give the Raiders a 4-3 edge.
"It was a changeup, so I kind of hit a little blooper out there, but it landed, so I'll take it," Green said. "It was pretty exciting to see one that I could swing at."
The Raiders added an insurance run in the sixth when Jacob Seratte tripled and Adam Rea followed with an RBI single that made it 5-3, and McMahon's pickoff proved to be important the next half-inning.
"We kind of got started off on the wrong foot," McMahon said. "We didn't start the game playing them with respect, but we really learned to do that later in the game."
Sam Hearnen picked up the victory, allowing three runs (one earned) with two walks and five strikeouts in five innings.
Fish notched the two-inning save.
Green led Lawrence's offense, reaching in all three of his plate appearances with a pair of walks. Stuever also went 2-for-3 with a double and walk.
Lawrence's second game against NBA was canceled in the top of the first after heavy rains hit the area.
The Raiders will face the Midwest Nationals at 11:45 a.m. and 1:45 p.m. today at LHS.
Natural Base. Ac. 020 010 0 — 3 6 1
Lawrence 300 011 X — 5 7 1
W — Sam Hearnen. L — Devon Freeman. SV — Briggs Fish.
2B — Sam Harding, NBA; C.J. Stuever, Lawrence; Kieran Severa, Lawrence. 3B — K.J. Jeffers, NBA; Braden Bass, NBA; Cooper Whitworth, NBA; Jacob Seratte, LHS.
Lawrence highlights — Drew Green 1-for-1, R, RBI, SB, 2 BB; C.J. Stuever 2-for-3, R, SB, BB; Lee McMahon 1-for-2, RBI, HBP; Sam Hearnen 5 IP, 5H, 3R (1ER), 2BB, 5K.
Copyright 2018 The Lawrence Journal-World. All rights reserved. This material may not be published, broadcast, rewritten or redistributed. We strive to uphold our values for every story published.