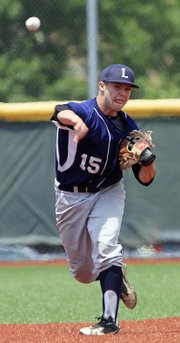 The Lawrence Raiders had just lost an extra-innings game Friday to the Fayetteville, Ark., Bulldogs, 5-2, courtesy of a three-run home run Markie Clark crushed over the left-field wall.
It had been a little more than 30 minutes since Clark's ninth-inning blast in the first portion of the doubleheader when he stepped into the batter's box again, in the top of the first inning of Game 2. Sure enough, the Bulldogs slugger lined a three-run shot down the left-field line.
Still, on a hot afternoon at Lawrence High, the Raiders chipped away, finally took their first lead of the twinbill in the sixth inning and hung on for a 6-5 win and a split.
"Those kids are resilient," Raiders coach Brad Romme said.
Adam Rea's two-run double in the fifth tied the game at 5, and Shane Willoughby delivered the go-ahead run in the sixth on an RBI triple to center field.
Willoughby, who went 3-for-4 and scored a run in the comeback victory, said the result made a long afternoon more bearable. With Kieran Severa on second base in the sixth, Willoughby got the pitch he needed out of Bulldogs reliever Joey Savens.
"I was looking for something fat, and he threw one right down the middle," Willoughby said, "so I was trying to take advantage of it."
Rea capitalized almost every time he came to the plate in the doubleheader. The left fielder from LHS finished 5-for-7 on the afternoon, with a triple, two doubles, two RBIs and two runs.
"I hate to throw this in there, but today was my birthday, so I felt like I had to do something big for that," said Rea, who turned 18.
The late-inning production came just in time for Lawrence reliever Ryan Cantrell, who replaced starter CJ Stuever to open the top of the sixth. Romme said Stuever kept the Raiders (4-4) in the game, and Cantrell shut Fayetteville down.
Romme felt a little disappointed that it took Lawrence so long to get going in both games.
"But to their credit — and I think it comes from the programs that they come from (LHS and Free State) — it's just drilled into them that until the third out is made in the seventh or whenever it ends, we still have a chance," Romme said.
The Raiders play two more games today, beginning at 2 p.m. at LHS, against Missouri Select and MNS Indians Felix.
Fayetteville Bulldogs 5, Lawrence Raiders 2 (9 innings)
Fayetteville, Ark. 100 001 003 — 5 8 0
Lawrence 000 002 000 — 2 8 0
W — Ty Harpeneau. L — Brandon Bell.
2B — Grant Koch, Braden Jordan, Fayetteville; Kieran Severa, Drew Green, Ryan Cantrell, Lawrence. 3B — Drew Tyler (2), Fayetteville; Adam Rea, Lawrence. HR — Markie Clark, Fayetteville.
Raiders highlights — Rea, 2-for-4, R; Cantrell, 2-for-4; Shane Willoughby, 1-for-3, R; Jacob Seratte, 1-for-3; Green, 1-for-4, RBI; CJ Stuever, 0-for-3, RBI; Bell, 8 1/3 IP, 8 H, 10 Ks, 3 BB.
Lawrence Raiders 6, Fayetteville Bulldogs 5
Fayetteville, Ark. 300 020 0 — 5 8 1
Lawrence 001 131 X — 6 12 1
W — Cantrell. L — Joey Savens.
2B — Tyler, Walker Powell, Fayetteville; Rea (2), Lawrence. 3B — Willoughby, Lawrence. HR — Clark, Fayetteville.
Raiders highlights — Rea, 3-for-3, 2 RBI, R; Willoughby, 3-for-4, RBI, R; Green, 2-for-2, R; Sam Hearnen, 1-for-3, RBI; Lee McMahon, 1-for-2; Ryan Stagg, 1-for-2; Briggs Fish, 1-for-3; Severa, 0-for-2, 2 BB, 2 R.
Copyright 2018 The Lawrence Journal-World. All rights reserved. This material may not be published, broadcast, rewritten or redistributed. We strive to uphold our values for every story published.