A two-vehicle accident on U.S. Highway 59 sent four people to area hospitals, Kansas Highway Patrol Trooper Neil Stanley said. The accident occurred about 1:50 p.m. Saturday on U.S. 59 at mile marker 151, just south of the North 1000 Road exit.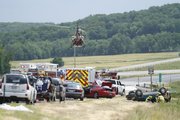 A Chevrolet Blazer was carrying seven members of one family after their Suburban broke down on the highway. Occupants of that vehicle were given rides in the Blazer.
The Blazer was traveling south on U.S. 59 when Lawrence resident Jeremiah Horseman, 20, rear-ended the vehicle, causing it to fishtail and roll over several times.
Passenger Geri Polsley, 31, was transported by ambulance to Lawrence Memorial Hospital.
Passenger Cynthia Polsley, 22, was transported by LifeStar helicopter to the Kansas University Medical Center, along with passenger Seth Polsley, 23, who was transported by ground ambulance.
Both passengers had been ejected from the vehicle. Seth was sitting in the rear storage area of the vehicle and was not wearing a seatbelt.
The driver of the Blazer, Ottawa resident Kathryn Polsley, 58, was also transported to the Kansas University Medical Center.
No information on Geri was released; however Kansas University Medical Center spokesperson Jill Chadwick reported that Cynthia and Kathryn Polsley were in critical condition, and that Seth was in fair condition as of late Sunday afternoon.
Copyright 2018 The Lawrence Journal-World. All rights reserved. This material may not be published, broadcast, rewritten or redistributed. We strive to uphold our values for every story published.