Lee's Summit, Mo. — Perhaps the Lawrence High football players should have known the Country Mart Kansas vs. Missouri All-Star Game wouldn't go exactly as they hoped Thursday night.
Photo Gallery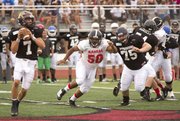 2013 Country Mart Kansas vs. Missouri All-Star Game
If the Lions needed an omen, the writing wasn't on the wall exactly. It was on some of their uniforms. LHS quarterback Brad Strauss was missing an "S" on the back of his jersey, and receiver Drake Hofer's white Kansas all-star duds had an extra "F" in his name.
Receivers Will Thompson and Erick Mayo and defensive tackle Kharon Brown didn't have any issues with their names, but none of the Lions had a memorable night in a 36-8 loss to Missouri at Lee's Summit North's Bronco Athletic Complex.
Strauss, much like the other two quarterbacks who took snaps for Kansas, rarely had a chance to get comfortable against Missouri's aggressive defense. The LHS graduate completed six of his 10 passes for 51 yards and had eight yards on eight carries.
"They're an all-star team, so obviously they're pretty talented," Strauss said of Missouri. "Their front seven was really good. They were really fast. They threw stunts and blitzes at us, and it was tough to pick it up. Our guys did the best they could."
Mayo caught one pass for 16 yards, Thompson brought in two receptions for 14 yards, and the one pass Hofer received gave Kansas seven yards.
Said Mayo: "(The Missouri defenders) were getting a lot of pressure on the quarterbacks so they couldn't read the coverages, and they couldn't get us down the field."
Thompson said the all-star game provided an eye-opening example of what the next level has in store for Lawrence's five college-bound players — Strauss and Mayo will attend Northwest Missouri State, Brown is going to Baker, Hofer is headed to William Jewell, and Thompson is off to Fort Scott Community College.
"It's just a little bit faster than what it was in high school," Thompson said. "Everybody's a lot better than what we're used to seeing. Everybody's a playmaker."
Missouri led 16-0 at halftime and 22-0 before Kansas finally got on the scoreboard with 1:30 remaining in the third. Blue Valley Southwest quarterback Aaron Ramsey rushed for a one-yard score, and Mill Valley quarterback Skyler Windmiller connected with BVSW receiver Anthony Miller for a two-point conversion.
Strauss said the Kansas offense took far too long to get comfortable.
"We killed ourselves early in the first half," Strauss said. "There were a lot of drives that could've ended up with points, but we shot ourselves in the foot near the end zone and couldn't recover from that."
Windmiller had more success than any other Kansas offensive player, completing 12 of his 20 passes for 129 yards. The Mill Valley product won the Kansas MVP award for his performance. His Jaguars teammate, receiver Staton Rebeck, helped that cause greatly with three catches for 38 yards.
Though Missouri made it a rough night for the Lions, Thompson said playing one more time with his teammates and LHS assistant coach Matt Stiles eased that disappointment.
Added Mayo: "We just didn't get the outcome we needed."
Copyright 2018 The Lawrence Journal-World. All rights reserved. This material may not be published, broadcast, rewritten or redistributed. We strive to uphold our values for every story published.