Lawrence crime, fire, courts coverage
Have a tip?
Contact Journal-World reporter Caitlin Doornbos: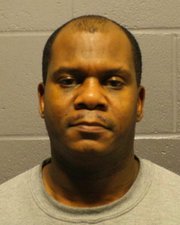 A 42-year-old Lawrence man has been sentenced to life in prison for raping a girl, who is now 12.
Leo Robert Hill was sentenced Wednesday in Douglas County District Court after being found guilty of one count of rape and one count of aggravated indecent liberties. He had pleaded no contest to the charges last month, after Douglas County prosecutors charged him in January with eight sex offenses that they said had occurred since June 2011.
Hill, who reportedly has resided in Lawrence for about five years after moving here from Mississippi with his family, was arrested Jan. 14 after staff at the girl's school alerted her mother and authorities to their suspicions of abuse.
In a preliminary hearing, an investigator from the Lawrence Police Department had said the victim, then 11, described several instances of sexual abuse, of varying kinds, occurring over a period of years. Hill, when interviewed by police, cried and said that he had "made mistakes," according to the investigator.
Hill admitted committing the crimes as part of his plea agreement with prosecutors, who dropped six of the original eight charges in exchange for Hill accepting a life sentence for each of the remaining two.
"I am very, very, very sorry," Hill said when addressing the court Wednesday at sentencing. "I did not mean to bring any harm — any harm — to the victim, at all." He said he entered a plea in the case to prevent the girl from having to testify in a trial. His attorney declined to add to Hill's comments after the hearing.
Assistant District Attorney Mark Simpson said he believed the abuse had started when the victim was about 6 years old, and putting Hill in prison for life was the best way to let her move on with her life. "How is she going to go on and trust other people?" Simpson asked.
Douglas County District Judge Michael Malone sentenced Hill to two life sentences — one for each count — to run concurrently. He will be eligible for parole after 25 years, and if released from prison he will be on parole and public offender registries for the rest of his life.
The victim in the case has moved out of the state, Simpson said.
Copyright 2018 The Lawrence Journal-World. All rights reserved. This material may not be published, broadcast, rewritten or redistributed. We strive to uphold our values for every story published.