A portion of Douglas County Route 442, also known as Stull Road, will be closed beginning Monday, June 10, for the first phase of a major road improvement project.
The portion being closed includes the two 90-degree curves between the Shawnee County line and East 100 Road. Local access to properties within the closed area will be maintained through the duration of the project.
The project calls for rehabilitating the pavement, widening shoulders, adding a guard rail over the Deer Creek bridge and other work to improve safety on the roadway.
Detours will direct traffic north to U.S. Highway 40 to Shawnee Heights Road, then south back to the roadway, which is 45th Street in Shawnee County.
The second phase of the project, from East 100 Road to Stull, is scheduled to begin July 29.
The $1.2 million project is being funded through the county's 2013 capital improvements plan.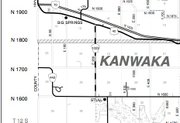 Copyright 2018 The Lawrence Journal-World. All rights reserved. This material may not be published, broadcast, rewritten or redistributed. We strive to uphold our values for every story published.