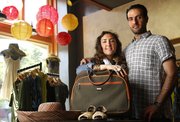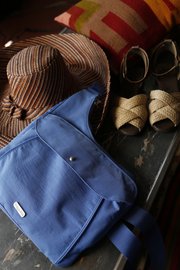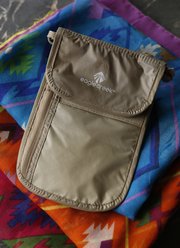 How to pack for kids
Fodor's offers these suggestions for preventing adult and kid meltdowns away from home, whether on a long flight or a quick road trip.
Give everyone his or her own bag, ideally each a different color, to help locate items in a hurry.
Assemble one toiletry kit for all the kids.
Make packing lists for each child, then take the list with you to make sure each item gets back in the bag on the way home.
Pack a family carry-on with essentials such as prescriptions and an outfit change for everyone in case checked bags get lost.
Consider creative carry-ons like soft coolers, which are roomy, crushable and double as picnic baskets once you reach your destination.
Take advantage of plastic bags, which protect against in-suitcase spills and can be used for dirty, wet laundry on the trip home.
Source: Fodors.com
If packing for travel is an art, Courtney Ricketts and her husband, Suleyman Vardar, must be masters.
Everything you need in one carry-on-size suitcase apiece for a voyage to Kenya? Bolivia? Great Britain? Any major U.S. city? Check, check, check and check.
The couple, who own Nomads at 725 Massachusetts St., say thoughtful, informed packing is one of the most important steps to a good traveling experience.
"Nothing's worse than taking too much — or not having the things you need," Ricketts says.
Ricketts, an area native, started traveling as a teen, studied abroad in college and met Vardar in his home country, Turkey. In addition to stateside trips, they've visited every continent except Australia and travel annually to Turkey, where Vardar's family lives.
Ricketts and Vardar opened Nomads — which sells some luggage and travel accessories, as well as travel-friendly clothing and jewelry from foreign locales — in 2007 to share their passion for travel with others, Ricketts says.
"We wanted other people to be inspired by it," she said.
Whether your upcoming summer vacation is long or short, active or leisurely, stateside or abroad, the same underlying principles of packing apply. Here are Ricketts' and Vardar's best tips.
Get informed
Buy a guidebook and read it.
You'll want to be in the know about activities you plan on doing, what kind of weather to expect and any cultural differences to consider when choosing what's appropriate to wear. A country or city's official website is usually a good second reference.
Choose wisely
Limit yourself to a few outfits you can mix, match, wash and not worry about ironing. Ricketts says she likes to stick with two or three colors. Fabrics like linen — the kind that's designed to look wrinkly is ideal — and microfiber are cool and comfortable, plus they're easy to wash and re-wear because they dry fairly quickly.
Shoes can take up a lot of space in a little bag. Ricketts sticks to two pairs — one pair dressy enough to wear out somewhere nice and another pair for walking. (Both comfortable, of course!)
Also, think about the last trip you took. Was there something you wished you'd brought but didn't? Did that extra T-shirt end up being dead weight?
"Every time, you're learning as you pack," Vardar says.
Accessorize
Especially for women, certain accessories can do double-duty on a trip — that would be looking stylish and serving a practical purpose, too. Ricketts is a big fan of packable hats, which are cute and shield your face from the sun, and big scarves, which can add color to an outfit and provide cover at the beach, a head or arm covering for visiting a church or mosque, or even a blanket on a chilly airplane.
When it comes to deterring purse-snatchers and pickpockets, over-the-shoulder purses and, for men, wallets that can be worn around your neck inside your shirt are good choices.
Another invaluable, though nonwearable, accessory is a compact, quick-dry microfiber towel. Especially when traveling abroad, Ricketts says, you never know when it may come in handy.
Think compact
Aim to fit everything you need in a 22-inch suitcase — that's carry-on size.
Within that oh-so-easy-to-carry little suitcase, keep things organized. Nomads sells a number of pieces to help with this, including a "folder" for items like dress shirts and a "cube" that helps separate and even compress rolled-up clothes.
"It's like having little drawers in your suitcase," Ricketts says.
Take only the toiletries you need in travel-size containers. For makeup, Ricketts recommends a small folding bag that can be hung up for use. And for jewelry, instead of packing it, just wear it.
Copyright 2018 The Lawrence Journal-World. All rights reserved. This material may not be published, broadcast, rewritten or redistributed. We strive to uphold our values for every story published.