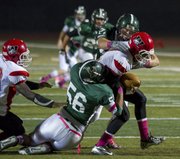 During a Memorial Day weekend trip to visit Northwestern University, Free State High senior Fred Wyatt realized he wanted the Big Ten football program, located in Evanston, Ill, just north of downtown Chicago, to be his future home.
That would mean committing to the Wildcats and coach Pat Fitzgerald, instead of his hometown Kansas Jayhawks and Charlie Weis, who happens to know Wyatt's father, KU defensive-line coach Buddy Wyatt, very well.
Whether Fred had accepted an offer from Northwestern, Rice, Oklahoma State or Arizona State, he knew breaking the news to his dad would be just as easy as if he picked Kansas.
"He was backing up whatever decision that I made," Fred said, "and he wants the best for me. He thinks Northwestern was the best fit for me as well."
The younger Wyatt, rated a three-star defensive tackle by rivals.com, called Fitzgerald on Sunday afternoon to make his commitment official.
"It was kind of a relief, but there was some excitement as well," Wyatt said. "Now I'll be playing Div. I ball, like I've always dreamed of, and it's a school that I really loved."
Wyatt's decision to join the Wildcats became public Tuesday, a day before his Free State teammate Joe Dineen committed to KU, but Wyatt said no correlation existed between their choices. It just so happened this past weekend Wyatt's third trip to Northwestern influenced him to finalize his future.
"I knew for a while that Northwestern was my top school," Wyatt said, "and the last trip cleared some things up and made it clear that I wanted to get there."
When the 6-foot-4, 260-pound tackle spoke about the current Wildcats he has met and interacted with, the word Wyatt kept bringing up was "comfortable."
"That just led to me feeling I'd be a great fit within the team," he said. "That just kind of sealed the deal for me."
It helped, too, that Northwestern was the first program to offer him a scholarship (KU came second, roughly a month later, in the summer before Wyatt's junior year).
"They kept recruiting me hard — really never let up," he said of Northwestern's staff. "I was talking to the coaches, it felt like, every other week. We kept a steady relationship throughout this past year."
And even when Wyatt moves away from Lawrence, he knows he'll have a reliable resource in his father, just a phone call away.
"He's already gotten on me," Fred said of Buddy. "He wants me to start going out there in the summer and working with him. He'll still always be right there, coaching me up."
Copyright 2018 The Lawrence Journal-World. All rights reserved. This material may not be published, broadcast, rewritten or redistributed. We strive to uphold our values for every story published.