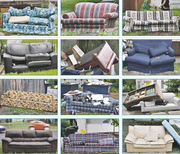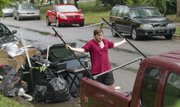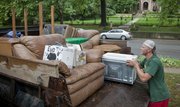 It's that time of year again, when the annual Lawrence moving shuffle begins.
This week, thousands of renters' leases expire and many Lawrencians will begin the mad dash to new apartments, houses and different cities. But while packing their lives away in cardboard boxes, many movers discover just how much stuff has accumulated in their homes. Some of that stuff will make the move, but a lot of it must go.
Mike Hathaway and Bryan Runnels' front lawn of their west Lawrence home on Sunday looked like many others in town this time of year. Brown leather couches, Xbox games, a wine refrigerator and a grill — leftover artifacts from their time together as roommates — were strewn about the yard as neighbors picked through the remnants of their moving sale.
As he watched a family of four hop out of a van to peruse some of his old DVDs, Hathaway felt a weight lift off his shoulders, knowing every item taken was one less to move or haul off.
"The purging of all of my stuff is liberating," Hathaway said. "Take it all away."
He and Runnels posted an advertisement to Craigslist.org and planted a few signs around the neighborhood to attract bargain hunters. The sale went pretty well, but by the end of the day, with a few dozen items still remaining, Runnels said it all had to go.
"We will put up a 'free' sign in the yard or donate it somewhere," Runnels said. "Once it's outside, it's not going back in."
Odds are good that their stuff will go, if put out for free. Moving season is like a second Christmas for pickers, and many locals like Hathaway look forward to the chance each year to snatch a quick treasure.
"I love late July, early August in Lawrence when everything's in flux," Hathaway said. "You could drive down any given back alley and just fill up your truck."
But if a few unwanted belongings don't get picked up at their curbside, plenty of local social service agencies take unwanted quality belongings and put them to good use. Lawrence Habitat for Humanity ReStore, Penn House, Goodwill Industries, The Salvation Army, the Leo Center and others take donations regularly.
Michele Johnson, manager of the ReStore, 708 Connecticut St., says moving season means an influx in drop-offs for the nonprofit organization, which accepts donations of hardware, furniture and appliances and resells them to benefit Habitat building programs.
"Typically, we do get a lot more donations around this time of year. We have seen a lot of furniture lately, which is typical of moving out," Johnson said. "A lot of tables, desks and chairs, which are not always matching. That is pretty usual for those moving from apartments."
The ReStore accepts donations from 9 a.m. to 4 p.m. Monday through Friday and 9 a.m. to 1 p.m. on Saturday. And if donors can't haul something themselves, the ReStore picks up donations on Fridays from area homes. For a complete list of accepted donations, visit http://www.lawrencerestore.org/donationguidelines.htm.
If residents don't give their unwanted large furniture to a store or charity, the proper procedure for disposing of it is to notify the city's Solid Waste Division at 832-3032 one day prior to the resident's normal trash day. The resident needs to provide the address and what furniture or large items will be thrown away. The Solid Waste Division then schedules for a bulk truck to collect the items on trash day to take to the landfill.
As soon as movers have purged their unwanted belongings, the trickiest part begins: packing up, hauling out and moving in.
Kansas University junior Brittany Bezler is in the middle of that hectic process right now. Though just moving from one apartment to another, Bezler says she is a bit overwhelmed.
"It's hard. Last year, I had my mom helping me pack, but now I'm doing it all on my own," Bezler said. "Luckily, she will help me carry it to my new place, but it is rough."
Bezler says she learned a few lessons the hard way.
"Don't over-stuff things into one box to save space," Bezler said, "because it's going to be heavy and hard to unpack and will break things in the process."
Still, she is proud of her independence and glad she saved a few bucks by doing it herself.
The cheaper route to moving might not be the best option for everyone. Craig Foos, co-owner of Starving Artists Moving, says not only is hiring professional movers more convenient, but it can also save customers time and energy and better ensure belongings get to their new place without breaking.
"Moving is an unskilled job, but there is a certain art to it. Our guys work together a lot and know what they are doing," Foos said. "It is kind of amazing to watch them go up a flight of stairs with a couch, wrap it through a door frame and place it into position without nicking the wall. They are just in sync."
Foos has seen a significant increase in business since the start of moving season. On average, the company has been moving about 50 or 60 households per week since the beginning of July.
"We have had a rush for the past couple of weeks," Foos said, "and it will be that way until about mid-August."
Copyright 2018 The Lawrence Journal-World. All rights reserved. This material may not be published, broadcast, rewritten or redistributed. We strive to uphold our values for every story published.