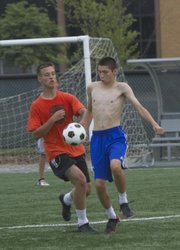 Part of the beauty of summer break and the lack of class responsibilities that comes with it is the chance to sleep in as much as possible.
Lawrence High's boys soccer players didn't mind giving up that right three days a week for the past two months. Two-hour workouts, beginning at 7 a.m. on Mondays, Wednesdays and Fridays, took precedent over additional snoozing.
The Lions' conditioning included everything from cutting, jumping and speed drills to crunches, push-ups and running stadium stairs — and, of course, plenty of ball drills, touches and scrimmaging.
The morning intensity didn't have LHS junior Jared Roush complaining, though.
"I think it's fun. I'd play soccer all night, all day if I could," Roush said. "It's good to see all the guys come out there and work out and prepare to win and work toward a state championship."
Coach Mike Murphy's program has won back-to-back Class 6A regional titles, but last season's senior class comprised most of the starting 11. With Parker Davies and Connor Henrichs, now seniors, the only experienced starters remaining, Murphy knows the summer months will be critical to the team's success this fall.
"This year the thing I'm hoping for is we'll be able to develop guys that will step into the varsity role," the coach said, "and not be overwhelmed."
Seniors Jack Clark, Vinnie Barker and Ian Gabel have proven themselves valuable at workouts, Murphy added, before noting the advancement of juniors Roush and Ellis Springe.
Between the friendlies and tournaments in which LHS has participated the past two months, the coach anticipates fewer deer-in-the-headlights moments in the future.
"The summer is almost its own season," said Murphy, who heard praise from other coaches about how athletic the Lions are as a group.
Davies said soccer is such a mentally tasking sport that the players need the summer workouts to make sure they don't tire, which would lead to a drop-off in technical ability over an 80-minute game.
"You can't work on anything else unless you're fit," Davies said.
Though the Lions felt out of shape when workouts began eight weeks ago, Davies said they are far past that, and he is optimistic about the lineup they will put on the field.
"A lot of our junior class is gonna be really good," the senior predicted.
Roush, one of those juniors, said Lawrence's players are stronger and faster because of their workouts, and their touches have improved, too.
"The first time we took shots on goal," he shared, "so many went over the goal and the net, and out into the parking lot. As we get better, they're hitting the upper 90 every time."
Even with all of the Lions' gains, Murphy said they will be fairly young and inexperienced, so he hopes their defense benefited from the summer labor, too.
"That's always the hardest thing to do," he said of defending. "That unit has to work so well together."
Copyright 2018 The Lawrence Journal-World. All rights reserved. This material may not be published, broadcast, rewritten or redistributed. We strive to uphold our values for every story published.