In the days and weeks leading up to Aug. 26, Kansas University's 28,000 students will begin returning to Lawrence in full force. When they arrive, swelling Lawrence's eating, drinking, shopping and general purchasing power, the city's businesses will be ready.
Restaurants, bars and shops are stocking their shelves and bolstering their staffs to prepare for the impending wave of students.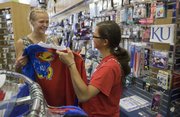 As Tom Wilkerson, owner of Jayhawk Spirit on Massachusetts Street, puts it: "It's no big secret what we do."
They do what all retailers do when prepping for a busy season. Starting in mid-July, his store began getting in new stocks of T-shirts, hats and everything else with a Jayhawk on it, all of it in anticipation of the fall semester.
This is certainly not Wilkerson's first rodeo. He's owned the store since 1981. He is little fazed by the thousands of students returning to town. Still, his business depends on those KU students flowing in every August.
"It's a good time of year, having those kids come back after a long summer," he said.
Many of Wilkerson's employees are students themselves and many stay with him throughout their time at KU. This year he'll add one or two new staff members to replace those who have moved on and to prepare for the fall's added traffic. Other than the modest staff additions, it's a matter of working more hours and serving more customers.
At Sunflower Outdoor and Bike, the staff adds two or three extra pairs of hands to handle the added traffic of weekends once the semester gets underway. The shop gets a boost from the hordes of newcomers to Lawrence who are journeying along Massachusetts Street for the first time.
"It's very encouraging to see a lot of new faces," said Sara Billhimer, a sales associate at the bike shop.
In late summer, Sunflower usually sees, perhaps not surprisingly, an uptick in backpack sales, as well as sales of new bikes. Billhimer said their repair shop also enjoys a little extra business. "We have a lot of people dragging their bikes in from the garage" to get them back into riding condition, she said.

During the school year at Quinton's Bar and Deli, Saturdays, Sundays and, for reasons not entirely understood, even Tuesdays bring huge crowds. Erin Schwartz, a waitress and bartender, said they have added hours to existing staff members' schedules and hired a couple of new servers who have never worked among the sorts of crowds the bar will draw on football and basketball game days.
"We have to make sure everyone's on top of their game," Schwartz said.
For others, the influx of KU students has little effect on day-to-day business. Emily Hohrein, a shift manager at the Mad Greek, said that the restaurant doesn't see all that big a change with the student migration to Lawrence.
"We've been around long enough that we have more of an older clientele," she said.
That clientele is loyal and regular, meaning the Mad Greek doesn't rely on students for sales. Where they do see some spike in traffic is on parent days at fraternities and sororities as well as Mother's Day and Father's Day. Basically, any time parents come to town and treat their sons or daughters to restaurant meals.
"They take them out knowing (students) can't afford our prices," Hohrein said.
That's a common theme among Massachusetts Street businesses: It's largely the parents who bring the extra business during the school session.
Wilkerson said mothers in particular are "a big part of our business." When they drop by town for a visit, they buy Jayhawk paraphernalia for themselves, their husbands and their children.
Sometimes those parents even recognize Wilkerson from the days when they themselves were students shopping on Massachusetts Street. When they see him, Wilkerson said, they'll ask incredulously:
"'You're still here?'"
Copyright 2018 The Lawrence Journal-World. All rights reserved. This material may not be published, broadcast, rewritten or redistributed. We strive to uphold our values for every story published.