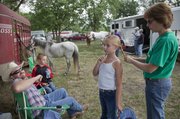 Sunday's fair schedule
Open horse show check-in, 8:30 a.m. at the Community Indoor Arena
Open horse show, 9 a.m. at the Community Indoor Arena
Set up beef tie-out, 6 p.m.
As the 12 contestants entered the arena one at a time, they were given two objects: an egg and a spoon. Once the whistle was blown, the announcer commanded the riders to walk, trot, gallop, and then walk again, all while trying to balance the egg without touching it.
Kali Kostelac of Baldwin City leaned forward on her horse, putting her weight into the stirrups and gripping the spoon tight. She watched the egg intently, giving it her full focus as she hugged the edges of the arena.
After being commanded to switch hands and drop the stirrups, Kostelac was forced to sit back onto her horse, and her balance was thrown off. There were three people left when her egg split open on the dirt floor.
Kostelac, 15, was one of 27 participants in the 4-H horse show at the Douglas County Fair on Saturday. The contestants, a variety of different age groups and skill levels, performed in events throughout the day, including Egg and Spoon, a show favorite.
One of the fair organizers, Darby Zaremba, said all of the events in the show are designed to reveal the partnership between horse and rider.
"Judges look for how you present the horse and how you present yourself," Zaremba said.
This was Kostelac's sixth year showing her horse in the Douglas County Fair. Early Saturday morning, she began her routine of bathing Mikey, an American Paint Horse, assembling her clothes, saddles and bridles and loading the trailer.
She was well-prepared by 9 a.m., when the show started with the recital of the 4-H pledge. But after she completed the trail class, where riders and horses navigate a series of obstacles, Kostelac wasn't feeling very positive about the day's performance.
"He's doing OK, but it's not his best day," Kostelac said. "The hardest part is keeping the horse consistent."
Kyleigh Leslie, a 13-year-old from Lawrence, said she was having an off day, too. She and Faye, an American Quarter Horse, had picked up a couple of red ribbons just before her last event, the Egg and Spoon.
Leslie, who has participated in the Douglas County Fair for the past few years, said she just enjoys the opportunity to compete — and socialize.
"I like the experience to get out there," Leslie said. "And to have your horse meet other horses."
Copyright 2018 The Lawrence Journal-World. All rights reserved. This material may not be published, broadcast, rewritten or redistributed. We strive to uphold our values for every story published.