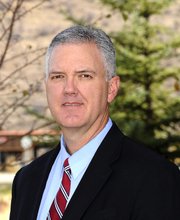 Veteran newspaper editor and manager Scott Stanford has been named general manager of the media division of The World Company, including oversight of the Lawrence Journal-World.
Stanford, 47, currently is the general manager of the Steamboat Pilot & Today, a newspaper in Steamboat Springs, Colo., that is also owned by The World Company. His first day in his new role in Lawrence will be Aug. 20.
Stanford will manage the day-to-day operations of The World Company's media operations, including the Lawrence Journal-World and its affiliated websites, weekly newspapers in Baldwin, Tonganoxie, Bonner Springs, and Shawnee, and Sunflower Publishing.
"Scott is innovative in his approach to delivering news and advertising opportunities on behalf of local businesses. He is deeply committed to and excited about the future of newspapers," said Suzanne Schlicht, chief operating officer of The World Company.
"We've worked with Scott for years in Steamboat and welcome him to Lawrence and the Journal-World. We know he'll bring great experience, enthusiasm and a hands-on, problem-solving work ethic to our award-winning operations," said Dolph C. Simons III and his brother, Dan Simons, co-presidents of The World Company.
Stanford's newspaper career spans more than 20 years. He worked as a reporter and editor at newspapers in Texas, including the Kingsville Record, San Angelo Standard-Times and Corpus Christi Caller-Times, before joining the Steamboat Pilot & Today as its editor in 2001. He became the newspaper's advertising director in 2007 and was promoted to general manager in 2010.
Under Stanford's direction, the Steamboat newspaper has won a variety of state and national awards for reporting, photography, design and advertising. Most recently, the Colorado Press Association named Stanford its 2012 Newspaper Person of the Year.
"Over the years, it has been my privilege to collaborate with the staff in Lawrence on a number of projects," Stanford said. "It is a great team, and I'm excited to have the opportunity to work with that team on a full-time basis."
Stanford is a Rotarian and past president of the Ski Town USA Rotary Club. He is an active volunteer and contributor to the United Way, and his wife, Kelly, has been the executive director for Routt County United Way for the past five years. Scott and Kelly have two daughters, Maggie, 19, who will be a sophomore at The University of the South in Sewanee, Tenn., and Libby, 15, who is entering her sophomore year of high school.
"I have had the good fortune to visit Lawrence a number of times over the years," Stanford said. "My family and I can't wait to call Lawrence home and become engaged and active members of the community."
Copyright 2018 The Lawrence Journal-World. All rights reserved. This material may not be published, broadcast, rewritten or redistributed. We strive to uphold our values for every story published.