On a hot summer day, you might expect to see incoming Southwest Middle School 8th grader Mariah Kaufman at the pool, not assisting in an operating room. But on a recent July morning, Kaufman was prepping brothers Harry and Lloyd for surgery.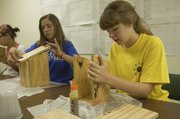 As a United Way Roger Hill Volunteer Center Summer of Service intern, Kaufman volunteered 10 hours a week at the Lawrence Humane Society, assisting veterinarian Jennifer Stone, D.V.M. Kaufman and fellow Summer of Service intern Louise Loats, an incoming Lawrence High School sophomore, laughed as they tried to hold onto Harry and Lloyd, beagle mixes who were twisting and wiggling with excitement, all tongues licking and tails wagging.
"I always wanted to be a vet," shared Kaufman. So when she found out about the new Summer of Service internship program at the Humane Society, she was quick to apply so she could see firsthand what veterinarians do. She and her fellow interns have learned how to intubate animals for surgery, monitor anesthesia during surgery and keep an eye on the dogs and cats post-op. "I'm learning about all the surgical procedures," Kaufman said.
"It's been loads of fun, and I've learned a lot," said Loats, who is contemplating a career in health care. "Getting to watch open surgeries is interesting to see."
Dr. Stone was skeptical of the Summer of Service internship program at first, not sure if teenaged surgery assistants would be more work than help with her busy surgery schedule, which can include 20 spays and neuters a day. Now she's a believer. "I've been extremely impressed," she said. "This has sped us up and made us more efficient."
Made possible with financial support from the Douglas County Community Foundation, the Summer of Service is now in its 4th year. This summer, 87 youths volunteered for 24 Douglas County nonprofit organizations, logging about 3,500 hours of service as they participated in large group service projects and individual internships. During the 10 weeklong group projects, the youth did things like build dog houses for Habitat for Humanity; harvest seeds from Baker Wetlands plants to sow at the new wetlands site; and spend time with seniors, playing games, giving manicures and exercising. Summer interns took on jobs like assisting with equine therapy at CLO Midnight Farm, helping with classes at the Lawrence Arts Center and serving meals to the hungry and homeless at LINK.
This was the first year the Summer of Service included the internship program, and it was an instant hit with both teens and agencies looking for a more intensive service experience. Lillie Okwuone, the human service coordinator for Douglas County ECKAN (East Central Kansas Economic Opportunity Corporation), which assists low-income residents, was thrilled to have the added support of her three Summer of Service interns.
As the lone staff member in the Douglas County office, Okwuone is swamped. So she put the interns to work organizing ECKAN's annual school supply program, revamping computer forms and manning the busy phone lines. Together, the interns did as much work as a full time staff member.
"I wish I could bottle them up full time," Okwuone said.
After participating in the Summer of Service in high school, Abby Schletzbaum and Cecilia Quintana, who both graduated from Free State High School in May, were so passionate about their own experience that they became Summer of Service project supervisors this summer.

"Youth are the least used resource in the world," says Schletzbaum. Through the Summer of Service, she said, "agencies can see that youth can put in as much work and brain power as an adult." The program also gives students a chance to learn about area nonprofits, the populations they serve and how they use volunteer resources to achieve their missions, she said.
"Kids this age really struggle with living too much in their own world and not realizing what is out there beyond their world," Quintana added. But through the Summer of Service, she saw the youth push outside their comfort zones, take on demanding jobs, make new friends, learn about community needs, and develop personal and work skills.
The program seemed to hit its mark with the youth who participated. On her feedback form, one girl wrote that the most positive aspect of the Summer of Service was: "I wasn't just sitting around like a slug this summer. I was making a difference."
— Micki Chestnut is director of communications for the United Way of Douglas County.
Copyright 2018 The Lawrence Journal-World. All rights reserved. This material may not be published, broadcast, rewritten or redistributed. We strive to uphold our values for every story published.