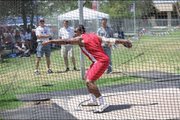 When Martin Williams graduated from Lawrence High two years ago, he didn't consider himself a great track and field athlete. He threw for the Lions throughout high school and had success — enough to earn a junior-college scholarship. When he arrived at Coffeyville Community College, though, Williams began to change the way he approached everything.
CCC throws coach Robert Wood noticed immediately.
"He got fit," the assistant track coach said. "He worked hard in the weight room and got fit and got strong."
Now 6-foot-2 and 245 pounds, Williams signed a scholarship with the University of Missouri-Kansas City track program before finishing up at CCC. The thrower shed roughly 35 pounds in his two years at the junior college and qualified for the NJCAA Championships (indoor and outdoor) in three out of his four opportunities.
Part of his improvement since graduating from LHS, Williams said, had to do with focusing on one sport. He played football for the Lions, too, but once he arrived at Coffeyville, his life revolved around academics, throwing and the weight room.
"I got the work ethic at Lawrence High," Williams added, "that I carried on to junior college."
Williams finished 13th in the hammer throw at the national meet this past spring, with a mark of 153 feet, 8 inches. He wasn't crazy about it, because his personal best is 162. Still, he has found other areas in which he can take pride.
"I've seen gains both athletically and academically," Williams said. "After high school, I started taking school a lot more seriously."
In his sophomore year, Williams posted a 4.0 GPA in the fall and a 3.4 in the spring, earning him academic recognition at the national meet. He is on pace to graduate from UMKC in two years with a bachelor's degree in business, and his tuition, books and fees all will be covered by his scholarship.
With the growth he has made throwing the hammer, discus and weight (indoor), Williams plans to make an impact for the Kangaroos. Coming in as a junior, he will have the experience to step into a prominent role, and his goal is to win Western Athletic Conference titles in weight and discus.
"It'd be nice to win in the hammer, too," he said, "but I can really see myself doing well in those events."
He'll have a former LHS teammate with whom to work. Sophomore thrower Blake Hocking and Williams have known each other since they competed for rival junior highs — Hocking at Southwest and Williams at South. Later, they joined forces for the Lions.
"We started out as competitors," Williams said, "and became teammates and friends."
Williams' CCC throws coach described him as a great person who did everything Woods asked of him while he was at Coffeyville. Now, the coach added, Williams gets to reap some of those rewards.
"I could see him in the next couple years picking up more strength, more technique," Woods said. "I think the sky is the limit when he gets to UMKC."
Copyright 2018 The Lawrence Journal-World. All rights reserved. This material may not be published, broadcast, rewritten or redistributed. We strive to uphold our values for every story published.