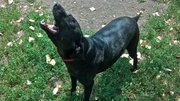 A dog belonging to a Lawrence man found dead in the Kansas River Wednesday morning is being cared for at the Lawrence Humane Society, family members said today.
The dog, named Gabby, was brought to the Humane Society by police and will be adopted by the man's adult son. A relative of Sexton's said Gabby is a trained service dog.
The body of Dwight Sexton, 49, of Lawrence, was found in the Kansas River about 10 a.m. Wednesday by a boater northwest of Burcham Park. Investigators from the Douglas County Sheriff's Office, which has jurisdiction over the river, said a preliminary investigation showed no evidence of foul play.
The cause of death is not yet known, and an autopsy is scheduled for today, said Lt. Steve Lewis, a sheriff's office spokesman.
Sexton was originally from Atchison, where family members said they are planning to hold memorial services for him.
Copyright 2018 The Lawrence Journal-World. All rights reserved. This material may not be published, broadcast, rewritten or redistributed. We strive to uphold our values for every story published.