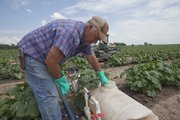 Larry Schaake isn't sure what he'd do without crop insurance.
It costs so much to plant his crop nowadays that if it doesn't grow, which has happened in recent years, it could be enough to put a farmer out of business.
Crop insurance is "probably our only salvation," said the 71-year-old Lawrence corn-and-soybean grower. "Our input costs are unreal."
Schaake is one of a number of local farmers paying attention to Congress' negotiations of a new farm bill. Both the House and Senate's versions of the legislation cut the $5 billion a year the government currently pays to farmers in direct payments while beefing up crop insurance.
Bill Wood, county director for Douglas County Extension, said that local farmers he has visited with hope the law has a strong crop-insurance program.
"It helps the farmer a little more on the decision-making part of things," he said.
Clint Hornberger, president of Douglas County Farm Bureau said that, for most local farmers, the two most critical components of the farm bill are crop insurance and conservation programs. The importance of insurance, for one, was made clear by the recent drought, in which many local producers lost much of their crops.
"We raised a little bit of wheat this year, but that's been it the last two years. Without crop insurance, it would have been disastrous to the farming economy," he said, noting that agriculture is a more than $40 million industry in Douglas County.
The government currently subsidizes about 62 percent of farmers' crop insurance premiums. While that program looks likely to remain in the farm bill, the same can't be said for direct payments.
"Farmers understand that we're in a budget crisis," Hornberger said. "In my operation, if I need the direct payments to survive, I'm doing something wrong."
Either way, he said, the longer the bill takes to pass, the more uncertain farmers will be. He said that when he recently inquired about implementing conservation measures on his farm to slow erosion, conservation officials were unsure if funding for those types of projects would continue.
"Quite honestly, at this point, a bill on the president's desk is what we want to see," Hornberger said.
Copyright 2018 The Lawrence Journal-World. All rights reserved. This material may not be published, broadcast, rewritten or redistributed. We strive to uphold our values for every story published.