Free State High volleyball coach Nancy Hopkins doesn't consider her five-day summer camp, going on this week, as a critical time for varsity development. Attendance isn't mandatory at the camp or other summer workouts, because little that happens now, the coach figures, has significant bearing on who will make the team in the fall.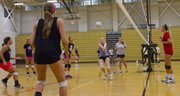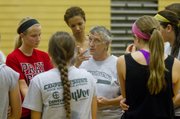 That doesn't mean she takes it easy on the campers, though.
Hopkins, entering her 17th season at FSHS, holds her most experienced Firebirds to high standards. During camp drills, she wants them swinging hard and she wants their passes, sets and kills accurate.
Tuesday afternoon, while working with the oldest members of the roughly 40 high school players in attendance, Hopkins would throw a ball up and over the net and required the players on each side to keep consecutive contacts going in a game simulation as long as they could. All the while, the Firebirds had to contribute to the streak in a specific order on both sides of the net.
Hopkins re-booted the drill every time the ball hit the floor, and the Firebirds never got to 25 or 30, as the coach desired. The point, she said, was to let the veterans know she has high expectations. Eventually, she added, they'll play with confidence and feel like they can accomplish anything she asks of them.
"Maybe it's not gonna work every single time they try it, but once they get it, they're there," Hopkins said. "None of them are going to be able to just do it. They're gonna have to work. This group seems to get that."
Morgan Knapp, the only returning varsity player at camp this week (Grace Miller is out of town for vacation), said the more time players spend with Hopkins, the more they get used to chasing high goals.
"What she wants from us will make us better in the end," Knapp said. "We just have to try. ... It's better to have a goal than just do the bare minimum."
Camp week is more about on-the-court intangibles for the Free State upperclassmen, and Knapp said patience is one of the many attributes they will pick up by the last day of camp on Friday.
"We learn that we can't get mad at each other because that will just blow up on the court," Knapp said. "You have to put everything together and work together. It's not one person that does it all. The whole team has to come together."
That's the kind of development Hopkins wants from the veterans.
"They learn a lot," the coach said. "It might not all be volleyball, but it's stuff that they need to know."
Copyright 2018 The Lawrence Journal-World. All rights reserved. This material may not be published, broadcast, rewritten or redistributed. We strive to uphold our values for every story published.