Lawrence crime, fire, courts coverage
Have a tip?
Contact Journal-World reporter Caitlin Doornbos: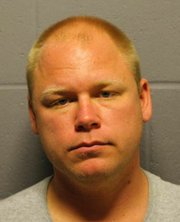 A 36-year-old Lawrence man, after leading local police on an interstate pursuit to Florida and Georgia earlier this year, has been indicted on federal charges in connection with the theft of vehicles and a gun.
A federal grand jury in Kansas City, Kan., charged Wesley J. Kelley Wednesday with one count of unlawful possession of a firearm while under indictment, one count of unlawful possession of a firearm while a fugitive, one count of vehicle theft and one count of interstate transportation of a stolen vehicle.
The indictment covers several alleged crimes between February and March of this year, according to federal prosecutors in Kansas. Lawrence police began linking Kelley to stolen vehicles on March 8, three days after he failed to appear in Douglas County District Court to face charges of burglary and theft.
On March 8, a rental car was reported stolen from the parking lot of a Lawrence health club and found 10 days later in White Springs, Fla., with some of Kelley's personal items inside, according to prosecutors in Kansas. Florida police did not find Kelley, but another vehicle was stolen in White Springs and found about 50 miles north in Valdosta, Ga. Detectives found that a credit card belonging to the owner of that vehicle was used to buy a bus ticket to Lawrence in the name of Wesley Kelley.
On March 21, when Kelley stepped off a Greyhound bus in Lawrence, detectives were waiting to arrest him. The officers found a 9-mm handgun and two magazines of ammunition in Kelley's gym bag.
Kelley told police that he had picked up the keys to the rental car at the Lawrence health club on accident and "panicked" when he realized the car was stolen, according to court records. He fled south to avoid his pending court case, stealing the handgun from a friend's house in Arkansas on his way to Gainesville, Fla.
In Florida, Kelley said, he changed his mind and returned to Kansas to turn himself in. The charges filed against Kelley each carry penalties ranging from five to 10 years in prison. A federal charge of vehicle theft, in connection with a Ford Explorer allegedly stolen from federal property at Fort Leavenworth in February, was apparently unconnected with the series of allegations beginning in Lawrence in March.
Copyright 2018 The Lawrence Journal-World. All rights reserved. This material may not be published, broadcast, rewritten or redistributed. We strive to uphold our values for every story published.