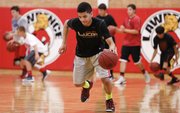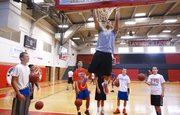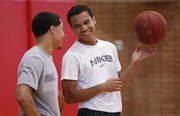 When Lawrence High's boys basketball players find themselves in the middle of one of their twice-a-week summer workouts, sprinting, defending and performing other less-glamorous aspects of the game for an hour and a half don't seem so bad.
The Monday and Wednesday team sessions, as well as Thursday open gyms, are nothing compared to the three straight weekends the Lions spent in June playing against other programs in camp and tournament settings.
LHS coach Mike Lewis doesn't have to stress himself out about the summer development of his players at workouts, either, because they played 24 games in June.
"It becomes survival to a certain extent," Lewis said of his team's competitive endeavors last month, "when you're playing three games in six hours or whatever it ends up being. It can really be a marathon."
Junior Lions guard Anthony Bonner, who has received college offers from Colorado State and Missouri State, said those tests of endurance forced the Lions into shape, too.
"I saw a lot of speed," he said of Lawrence's lineup. "I think we can use that to our advantage this season. We don't have much size, but I thought we did really well for what we had."
Bonner, sophomore point guard Justin Roberts, senior guard Connor Henrichs and junior guard John Barbee were the most experienced players leading a 14-10 summer season for LHS, which played at Missouri State and Kansas team camps, as well as the KAMO Tournament. Seniors Erik Parrish, Anthony "Bootsy" Riley, junior Ben Rajewski and sophomore Price Morgan moved into the rotation, and a handful of junior varsity players were in the mix, too.
Lewis said the Lions had three sudden-death overtime losses and a couple of OT victories on their summer schedule. They blew out a couple of opponents, but other games were close. The coach liked seeing his players tested, because it gave him a feel for their toughness and how they would handle wins and losses.
Playing more games than some teams get in a high school season, Roberts added, made it easy for the group to jell.
"We tried to work on playing as a team, because we're not all used to playing with each other," the point guard said. "I think it was good to get to know each other on and off the court."
Roberts and Bonner have been impressed this summer by two players who are new to the varsity rotation: Riley and Rajewski. Bonner predicted Riley, another LHS guard, will surprise people.
"In my mind, he's a great player," Bonner said. "I've played with him all my life. He's kind of like a Drake Hofer. He does all the little things, gets a lot of steals, a lot of offensive rebounds, defensive rebounds. I love playing with him."
Roberts said Rajewski, another part of the guard-heavy lineup, could step into a three-point shooting role previously occupied by graduate Jake Mosiman.
"I think Ben's gonna fit in perfectly well with that," Roberts said. "He's a great shooter, also."
Copyright 2018 The Lawrence Journal-World. All rights reserved. This material may not be published, broadcast, rewritten or redistributed. We strive to uphold our values for every story published.