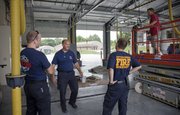 For weeks, the volunteer firefighters of Eudora have been packing boxes, eager to move into the department's new home at 10th and Main streets.
The big day came today, when the firefighters began carrying in smaller items, joined by police and municipal court employees, who will share the new public safety building.
It could not have come too soon, said Eudora Fire Chief Ken Keiter. The firefighters will likely be at the station late into the night, settling in, he said, but won't move the fire trucks until the final city and fire inspections are complete later this week.
"We knew this day was coming," Keiter said. "Absolutely, it is going to make such a big difference, not only in terms of comfort but in terms of space."
Construction on the new public safety building began last year, prompted in part by a 2010 audit of Eudora's fire department that revealed the space in the city's public safety building at 840 Main St. was too small to safely house heavy fire trucks. The bumpers rested only inches from the wall in the 8,000-square-foot building.
Firefighters and police had noted other shortcomings in the older building, which also housed both fire and police. For firefighters, there was no kitchen or shower facility. For police, there was nowhere to meet with victims and witnesses except in the lobby, in view of other people coming in to make payments at the municipal court clerk's window a few feet away.
The new building takes care of the space issue for the fire trucks and can comfortably accommodate up to five firefighters a night, Keiter said, which is important for a department that depends on retaining volunteers. The building also promises more space for the police and will house the municipal court.
Though space issues and showers may seem like small things, Keiter pointed to a Sunday morning fire in Eudora that occupied his volunteers for more than four hours. "It would have been nice to take a shower," he said.
The new building sits on land formerly occupied by the old Eudora Middle School and was funded with $2.84 million in bonds approved by the Eudora City Council last July. The city will hold an open house at the building July 27, during Eudora's CPA picnic.
Copyright 2018 The Lawrence Journal-World. All rights reserved. This material may not be published, broadcast, rewritten or redistributed. We strive to uphold our values for every story published.