Being healthy can be costly. Between buying healthy food and paying for a gym membership, classes or workout equipment, sometimes getting in shape may seem like a major feat — not just for the mind and body but for the wallet.
In Lawrence, businesses and groups are finding ways to make living a healthy lifestyle easier on a person's bank account.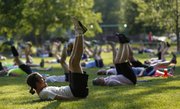 "It's important people have access," said Roger Steinbrock, the city's parks and recreation marketing supervisor. "It's there, now they've got to use the (resources available)."
Recreation centers
There is an array of gyms and health clubs in Lawrence, but many of them have monthly membership fees as well as contracts. Through the city's Parks and Recreation Department, the public has free access to three recreation centers with weight and cardio rooms and multi-use courts, as well as an outdoor facility at Deerfield Park. The cardio centers have stationary bikes, treadmills and elliptical machines, and the weight rooms have a variety of free weights and machines. To use them, a person just needs to show up and sign in.
Steinbrock said the centers have been free since they opened, although technically community members pay for them through sales taxes. There are also donation boxes at the centers to help offset the costs of maintenance.
Last year, Lawrence residents and others took advantage of the centers by going over 455,000 times, whether they used the cardio and weight rooms or one of the basketball or tennis courts.
And the recreation centers are just one way the parks and rec department offers free exercise to the public. There are also outdoor trails, dog parks, disc golf courses, skate parks, recreational parks and athletic fields throughout the city.
"We've got 43 miles of trails people can use to bike, walk, run or jog," Steinbrock said.
The public is welcome to use or reserve any of the department's facilities and are encouraged to take advantage of what the city has for public use.
"It's about managing their health more than anything," Steinbrock said. "Through Parks and (Recreation) we're trying to do that … It's really up to the individual and their own motivation."
Classes and community activities
Free Exercise in Lawrence
Red Dog's Dog Days: 6 a.m. morning workout, Monday, Tuesday and Thursday at Memorial Stadium, Wednesday at South Park; 6 p.m. evening workout, Monday though Thursday at South Park; Saturday fun run, 7 a.m. and 7:45 a.m. at the Lied Center
Free or for donation yoga: Westside Yoga of Lawrence, 4935 Research Parkway, 7:30 p.m. Tuesdays; Be Moved Studio, 2 E. Seventh St., 6 p.m. Sundays
Community bike ride: Cycle Works, 2121 Kasold Drive, 6 p.m. Monday
City of Lawrence recreation centers: Community Building, 115 W. 11th St.; East Lawrence Recreation Center, 1245 East 15th St.; Holcom Park Recreation Center, 2700 West 27th St.
If it's hard to find the motivation to hit the gym or trails alone, other organizations in Lawrence offer free classes or group outings to encourage the community to get moving.
Red Dog's Dog Days is a fitness program that is free for anyone in Lawrence to attend. There are sessions Monday through Thursday at 6 a.m. and 6 p.m. that consist of a warm-up, calisthenics and cardio, as well as a fun run on Saturday mornings. It was started in 1984 to help prepare the Lawrence High School football team for the fall season. Eventually, more student-athletes began attending the free preseason workouts until eventually community members were showing up.
Co-founder Don Gardner said anyone can attend the workouts — they just have to show up, check-in and be ready to sweat.
"I think for the community it's great getting to know each other and support each other," Gardner said.
The Lawrence Bike Club offers a group bike ride at 6 p.m. every Monday. The group meets at Cycle Works, 2121 Kasold Drive, and rides on trails across the city. Riders range from beginners to advanced riders. The only requirement is that the person has a bike to ride and wears a helmet.
"We wanted to have a casual ride with the commitment to not leave anyone behind," said Gary Long, the owner of Cycle Works. "We try to keep it to about 12 miles or so and average about 10-12 miles per hour."
Other free exercise activities in Lawrence include a free yoga class at Westside Yoga of Lawrence, 4935 Research Parkway, and for-donation community yoga at studios like Be Moved, 2 E. Seventh St.
Many gyms and exercise facilities in Lawrence also offer free trial memberships or a once-a-week free class.
"You've got to have the self-will to make change happen in your life," Steinbrock said. "It's self-motivation more than anything to get off the couch."
Copyright 2018 The Lawrence Journal-World. All rights reserved. This material may not be published, broadcast, rewritten or redistributed. We strive to uphold our values for every story published.